"Perfection is achieved, not when there is nothing more to add, but when there is nothing left to take away." – Antoine de Saint-Exupéry
---
I originally posted this page in 2012. Since then, it has attracted a ton of views, spawned the No Bags Travel movement, and got me the World's Best Travel Hacker badge from FlightNetwork.com. In short, it struck a nerve. Therefore, I keep it updated. Here's what I got for 2022.
---
"Where's your luggage?"
"It's all I got."
This is always how it begins. This is what security officers in Ben Gurion airport ask when they see me – sometimes with a tiny bag, sometimes completely bagless – going abroad. And it is then when I need to disarm and convince them I am neither a lunatic nor a terrorist.
So I send them to this page ;)
What's this page, you're asking?
It is your travel guide to serendipity, freedom, and joy of life.
For the past decade I've traveled the world almost full-time. What I've constantly noticed was how much of an impact your belongings have on the joy of your trip. It made me realize that minimalism is truly a privilege of the rich. The gurus weren't lying!
Here you will see how I gradually minimized my gear, sculpturing it to a point where it offers maximum peace of mind and comfort.
The result?
After a ton of field tests in ~70 countries, I can proudly say I have refined my gear to a point where I don't even need a backpack anymore.
I call this… No Bag Travel. You may also call it No Luggage Travel, or No Baggage Travel. It is the art of traveling so light you can technically pack all your travel gear inside the pockets of your pants.
The only times I carry a bag is when I go on extended periods and need my laptop for work. In either case, I am always as mobile as a bird.
Minimalist Travel
---
"It is futile to do with more things that which can be done with fewer." – William of Occam
---
You know that classic backpacker look. The colorful bracelets all over the arms. The disgusting, sweaty, worn-out T-shirt. The gigantic Lonely Planet guide. And the huge NASA rocket harnessed on the back.
What the heck do backpackers (rocketpackers?) fill it with? To me, that is absolute insanity. Back in my days in the Israeli Defense Forces, I had the fetid privilege of spending months in the harsh desert. The funny thing? Neither me nor my comrades ever carried so much luggage.
The joke becomes even more ridiculous when backpackers see how better equipped I am, compared to them. They're unable to fathom the idea. How can this guy carry that little and look cleaner than me?
The secret, as secrets always are, is both elegant and simple:
You can wear one set of clothes at any time, so why not maximize the efficiency of this one set and ditch the rest? Why not pick something that never stinks, barely needs laundry, and always looks great?
Less is more.
This is what this minimalist travel gear guide is all about.
Benefits of Traveling Light
---
"The cost of a thing is the amount of what I call life which is required to be exchanged for it, immediately or in the long run." – Henry Thoreau
---
Less frustration and wasted time. You won't have to wait at the airport for your luggage, or worse, get frustrated if the airlines loses it. Also, going on and off airports will be blazing fast.
Cheaper flight fares. Most low-cost airlines charge additional money for anything bigger than a handbag. With my philosophy, you'll always be complying with onboard luggage policies. In other words, you'll save money. (Related: How to Find Cheap Flight Tickets)
Flexibility and comfort. You won't have to waste energy carrying luggage, or finding a place to store it. You'll have less back pain. You'll do less laundry. Traveling light is pure beauty. It allows you to jump on opportunities and adventures as they come. Serendipity will find you. This, my friends, is what real freedom looks like.
Better infusion with the local culture. There is a degree of disrespect when you walk around Cambodia holding a big, shiny DSLR. Being more modest in appearance will make you more inviting, and attract more interactions with the locals.
Less risk. You'll be traveling with little, so you won't look like the average tourist. You'll look more like an expat. Vendors will be less likely to rip you off, and malicious people will be less likely to rob you. (Related: Best Way to Take Money Abroad)
You don't need more. Cyril Parkinson was known for his disrespect to the lack of human efficiency at managing resources. He suggests that work expands so as to fill the time available to its completion. If you have eight ours to finish a task, it'll tend to take you eight hours. Likewise, your luggage expands so as to fill the space available. No matter the size of your bag, you'll always find a way to fill it up.
Simplicity. Before going on my first long minimalist trip, I had given my entire wardrobe to charity. I won't lie, giving everything away did itch. But it was a great lesson, a reminder of the enormous amount of trash the human race accumulates. Shortly after, I learned a good lesson: An unnecessary item you owned quickly loses its meaning when gone. You forget it existed. Leaving all those physical burdens behind means you'll be more focused on your trips, on life itself.
Minimalist Travel Gear Packing List
---
"We make progress by eliminating things, by removing the superfluous." – Steve Jobs
---
My philosophy isn't stinking like a barefoot hippy. It is to be efficient. You want to choose your gear wisely and skillfully. We're going to carry just a few items, so it's crucial to make the right choices and ensure we're as lean and mean as possible. Therefore, our fabric of choice is this:
Wool.
The nastiest mistake I see on the travel trail is the use of synthetic "travel gear", or cotton. The former may dry quickly and wick sweat away, but it stinks like a mofo. The latter not only stinks, but also becomes sweaty, takes ages to dry, and doesn't keep you warm enough when it's chilly.
And so, our savior is wool. But why wool?
Doesn't stink. Wool is naturally anti-microbial and odor resistant, and quickly evaporates sweat into the air. You'll rarely have to wash it. You can go weeks with a single set of wool clothing. If it does begin to smell, it'll often be because of food stains rather than sweat.
Regulates body temperature. Wool is naturally both breathable and insulating. It evaporates sweat and keeps you dry in summer, and excels at keeping you warm when it's cold.
Dries super fast. Imagine a tropical monsoon showering you out of nowhere. With cotton, you'll have to change your clothes as soon as you can. With wool, you'll be dry again before you know it. Wool can also absorb a lot more water before you "feel wet".
Doesn't wrinkle. Wool is naturally resistant to wrinkles because of the structure of its fibers, so you'll never look like a homeless person. And no more time wasted ironing if you're a business traveler!
You can use any type of wool – Cashmere, Mohair, etc. I like Merino wool, which comes from New Zealander sheep, because it's soft, elegant, widely available commercially, and never itches like those sweaters Grandma used to knit for you when you were a child.
So, without further ado…
Best Travel Gear: Minimalist Packing List
---
"The secret of happiness, you see, is not found in seeking more, but in developing the capacity to enjoy less." – Socrates
---
I'm assuming you're gearing for a short trip, so I'll give you suggestions for different climates. If you're traveling full-time, you'll need to mix & match depending on the range of climates you'll encounter.
Shirt (Base Top Layer)
The base layer helps regulate your body temperature and wick sweat away, keeping your body dry. Cotton isn't good. It retains moisture and will get you cold even if you have five layers of fleece above it.
So, which base wool top should you get?
Depends on your destination:
Hot and sunny? Get a thin layer (120-150gsm), something like the Woolly Ultralight Crew / Woolly Tank for men, or the Smartwool Merino 150 Lace Tank for women. If it's really hot, choose a tank top. Wool is warm.
Springlike? Get a 165-200gsm base layer, something like the Minus33 Ticonderoga 170 / Woolly Henley for men or the Minus33 Moriah 170 / Meriwool 180 / Icebreaker 175 for women.
For triple the price, you can get a gorgeous 130-200gsm Wool & Prince button-down. I own one and love it, though you can't machine-wash it.
Cold and wintery? Get a 230-300gsm base layer, something like the Minus33 Chocorua 230 / Minus33 Isolation 230 / Meriwool 250 for men, or the Minus33 Ossipee 230 / Meriwool 250 / Kari Traa for women.
Freezing and arctic? Go hardcore and get a 400gsm base layer, like the Minus33 Yukon for men or the Meriwool 400g for women.
---
Feel an itch to browse some more? Then go check Amazon. The only rule of thumb to remember: 100% wool. Try to choose the best weight (gsm) for your destination, but don't obsess over it too much. I was in Canada in freezing January, and a 170gsm base layer did the job. And remember:
You only need a single shirt.
Wool doesn't stink, so it's the only shirt you'll need. After you buy your shirt, wear it for a couple days. Do some workouts, sweat in it. Then do the same with cotton. Now sniff both. Smell the difference?
Magic.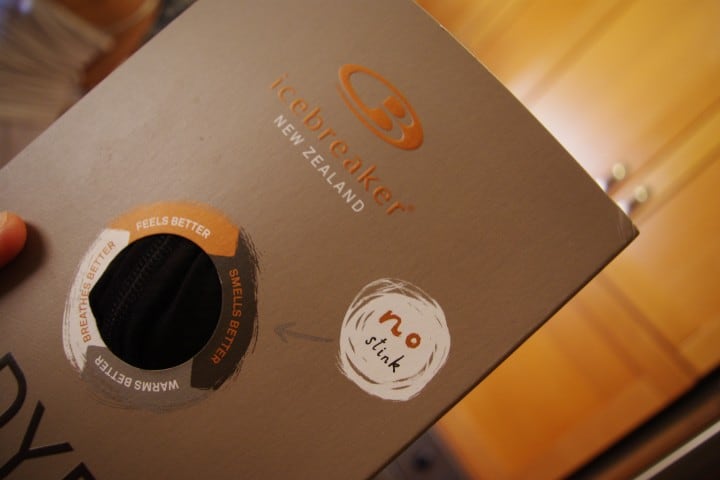 Mid Top Layer (For Cold Weathers)
---
The mid layer helps insulate your body and trap heat. Obviously you don't need it when you travel to warm places, where a single shirt, the base layer, is all you need. But in cold weather it's necessary. Our best materials for a mid-layer are wool, fleece and goose down:
Wool: breathable, doesn't stink, dries quickly, insulates even when wet. Warmth per weight isn't exceptional. Can be pricey.
Fleece: breathable, dries quickly, very inexpensive, but lacks water resistance and can also smell quite quickly.
Goose down: the king of warmth per weight. Exceptionally packable. Best for extremely cold and dry conditions. Not nearly as breathable as wool and fleece. If you're going to get your heart rate up and be super active, it can get very hot, very fast. Also, very expensive, and can smell.
So, what to choose? Again, this depends on the weather:
Not freezing? Get something like the Aran Crafts Irish Wool Sweaters / Cashmeren Turtleneck / Woolly 250gsm Zip-up / 1/4 zip / Henley 190gsm if you're a man. Short on cash? Go with a Goodthreads' sweater. For women, go for a beautiful Aran Crafts Irish Wool masterpiece / West End Knitwear Cable Sweater / Carraig Donn Long Irish Sweater. You can also get a 100 / 200 (also for women) / 300 / 420 Polartec fleece. However, I prefer wool, since fleece can smell. When you go No Bag, it's crucial.
Freezing? When things get icy, you'll want goose down. The higher its Fill Power (FP), the warmer it is per gram of down. For the best warmth per weight, the Montbell Plasma 1000 (Men / Women) is unbeatable. It offers 1.6oz (45g) of top-notch 1000FP down, and weighs a ridiculous 135g (4.8oz). For very cold climates, you'll want more fill though, something like the Plasma 1000 Alpine at least. Montbell has a nice line:
Do note: down is VERY good at trapping body heat. You'll be toasty, especially when wearing a wool base layer. So, if you don't go to the Arctic, don't go with a crazy jacket. For up to -5f (-20c), almost any down jacket will suffice (real down, not synthetic 'puff jackets').
Personally, I'm using an Eddie Bauer Hooded Cirruslite I picked on a $25 Amazon sale. Amazing fit, coated with a water repellent, and very durable so far. Kept me very toasty on my last trip to the Pyrenees mountains. You can often find (new) Eddie Bauer items on eBay for good prices.
Another option is the Mountain Hardwear Ghost Whisperer (Men / Women). Wind proof and water-repellent, and warmer than the Eddie Bauer, though also pricier. Pick only if the weather is really cold.
Oh, and if you're going somewhere crazy frozen – think Greenland, Siberia or Antarctica in the winter – consider a full down suit.
Outer Top Layer (Storm Shell)
---
An outer shell protects you from the rain, snow and wind. Personally, I won't bother taking one if it just light rain or wind. But if it's anything heavy, a shell can be a godsend. If that's your case, get yourself a light, breathable, and fully waterproof (not just 'resistant') shell.
The lightest one is the Arc'teryx Norvan SL (Men / Women) – waterproof and windproof at only 4.2oz! (120g). The Outdoor Research Helium II (Men / Women, 6.4oz / 180g) is a much cheaper option. If you find a fully waterproof shell that costs less (and isn't too heavy), go for it.
Leg-wear
---
I used to travel with brushed-nylon convertible travel pants. They were comfortable, but started smelling quickly. So I ditched them.
I replaced them with the since-discontinued Wool & Prince wool shorts. That solved the, well, aroma issue, but they were far too thick for hot climates, where I was visiting most of the time. So I began wearing…
Just my swimming shorts!
This proved to be a genius move for a number of reasons. First, because I was immersing them in water the whole day — I was scuba diving and ocean bathing a lot — they never smelled. Second, I liked their super light feeling. And third… I could wear them without underwear.
So, which pants/shorts should you get?
If you're going somewhere warm, any swim shorts with pockets will work, like the Kanu Surf Barracuda. For women it's trickier. You can't just walk in bikini all day. But you can wear some light wool yoga pants / trousers (with pockets, if you No Bag it). Try SmittenMerino.
If you're traveling to cooler climates, or if you just want to look nicer, try Makers & Riders wool trousers (for women too). I've been wearing them for a couple years; very durable and good looking. They use 45% wool at 190gsm. If you need something warmer, get the Wool & Prince ones, which are 60% wool, 240gsm. Similar price for more wool!
Note: Neither the Makers & Riders nor the Wool & Prince trousers are pure wool. Still, no smell. Wore them for years now; no problem.
If you don't want to spend any money, just pick your favorite pair of jeans. I find myself traveling with jeans more and more often. Not always comfy, but they don't smell nearly as bad as brushed-nylon "travel pants".
Now, if you're going somewhere cold, put a nice wool base layer underneath the pants. Pick the gsm according to climate and how cold-sensitive you are: Men (170 / 200 / 250) – Women (170 / 230 / 250 / 400). For women, here's a nice wool pullover sweater/dress combo to put on top of the wool base layer leggings, if you don't want any pants.
P.S. Whatever pants you choose, I recommend sewing an internal pocket. This will secure your passport, money and credit card.
Underwear
---
Back when I started traveling, I was wearing the famous ExOfficio Give N' Go because of the hype. However, they took noticeably longer to dry than my wool gear. This is why I now wear wool exclusively as my undies.
Currently I am using two nice pairs of Woolly, but will replace them soon, as they start to wear out- I've had them for two years. All in all, just get the cheapest 100% wool boxer briefs or panties you can find.
How many pairs should you pack? When I No-Bag, I'll wear one, and wash it as I'm showering every night. It'll dry before I wake up. When I do carry a bag, I'll take two pairs and alternate.
P.S. For those prone to chaffing, I recommend boxers over briefs.
P.S. #2 For ladies looking for 100% merino wool bras, they exist!
Gloves
---
Going somewhere cold? Buy a pair of touch-screen friendly gloves, so you don't have to take it off whenever you use your phone. Good options:
Novawo Unisex Magic Wool & Cashmere Blend
Elma Nappa Leather Gloves (100% Cashmere lining)
Warmen Nappa Leather Gloves (30% Wool / 70% Cashmere lining)
Eddie Bauer Men's Boundary Pass Down Gloves
Eddie Bauer Women's Sun Valley Down Gloves
Personally, I have the Elma and wear them for most weathers. They look amazing, they're inexpensive, and they're made of real leather and wool. If I went somewhere frozen, I'd take down gloves though.
Headwear
---
If you want to cover your head, look for a 100% wool beanie. Whatever that you personally liked, and is 100% wool, get it.
By the way, for more versatility, get a wool buff! You can use it as a beanie, a neck scarf, a balaclava, even ring it around your head to warm your ears. I even used one in Central America to protect my face from mosquitoes in the jungle at night. It's a versatile garment.
Footwear
---
For the past decade, I've been wearing barefoot style shoes exclusively.
I love it.
Normal shoes have numerous problems. Mainly, they don't allow enough space for the toes to spread, and their sole isn't flat. This makes you strike the ground with your heels, hurting your back and feet.
Check this out:
Of of all the pairs I tried, these are my favorites: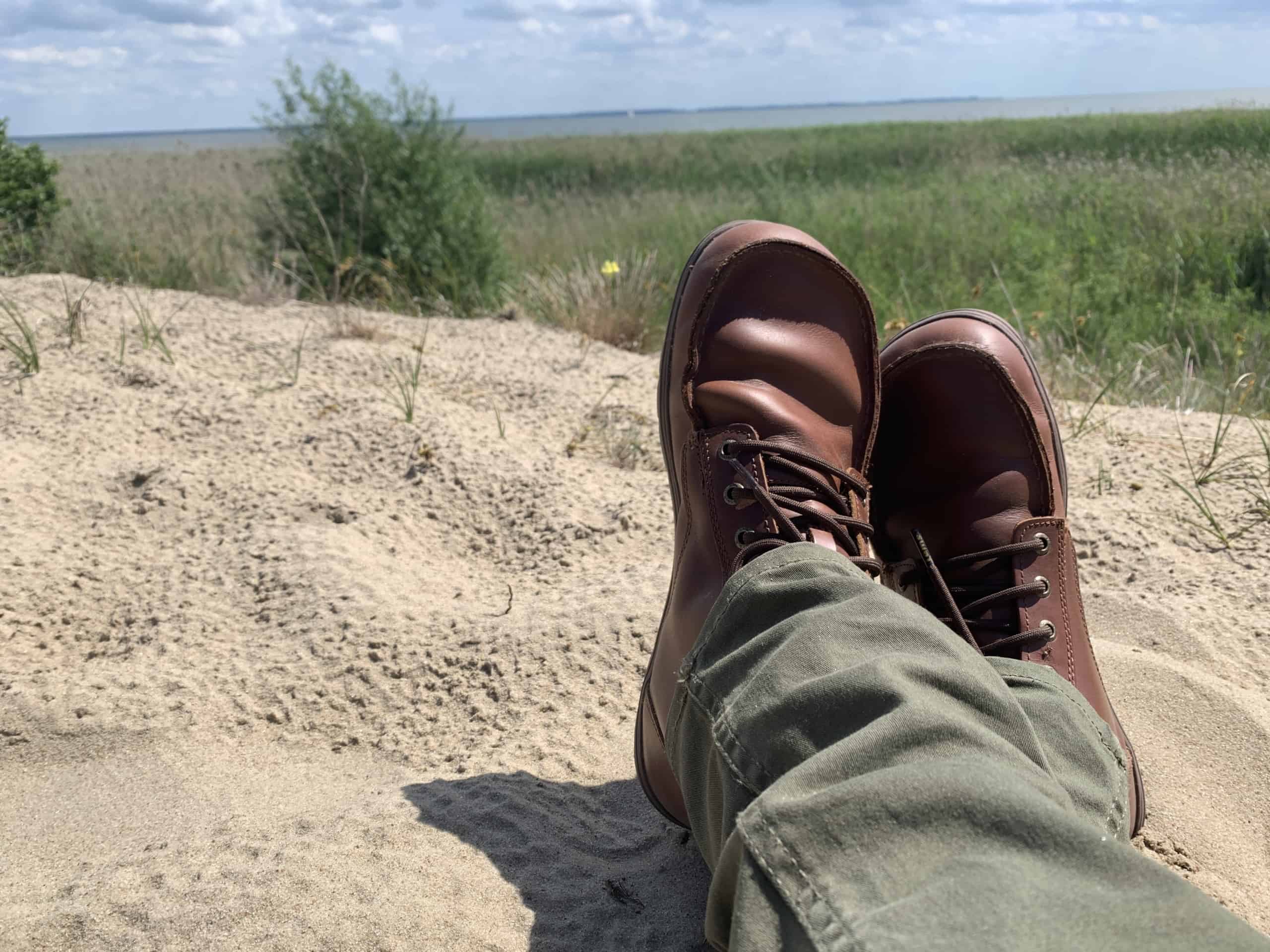 (My pair of Lems Boulder Boots to the left, and Carets to the right)
Once you get used to barefoot shoes, you'll never go back. The proper part of your feet will land first when you walk or run, providing natural shock absorption without added stress on the back. Your toes will have room to spread, giving you a stronger grip. Your tendons and ligaments will strengthen, and your posture will improve.
P.S: If I travel to a beach destination, I'll just take my flip flops.
P.S #2 Don't forget to get some 100% wool socks. I use those 100% Alpaca wool socks and love them. I tested them by No Bagging a single pair to Czech Republic. Never washed them, and they refused to smell.
P.S #3 If you travel to warm destinations, have open shoes (sandals, etc). Humidity, warmth and darkness is a killer combo for bacteria.
P.S #4 If you have small children, have them wear barefoot footwear from day one. That will ensure their feet develop well, wide and strong!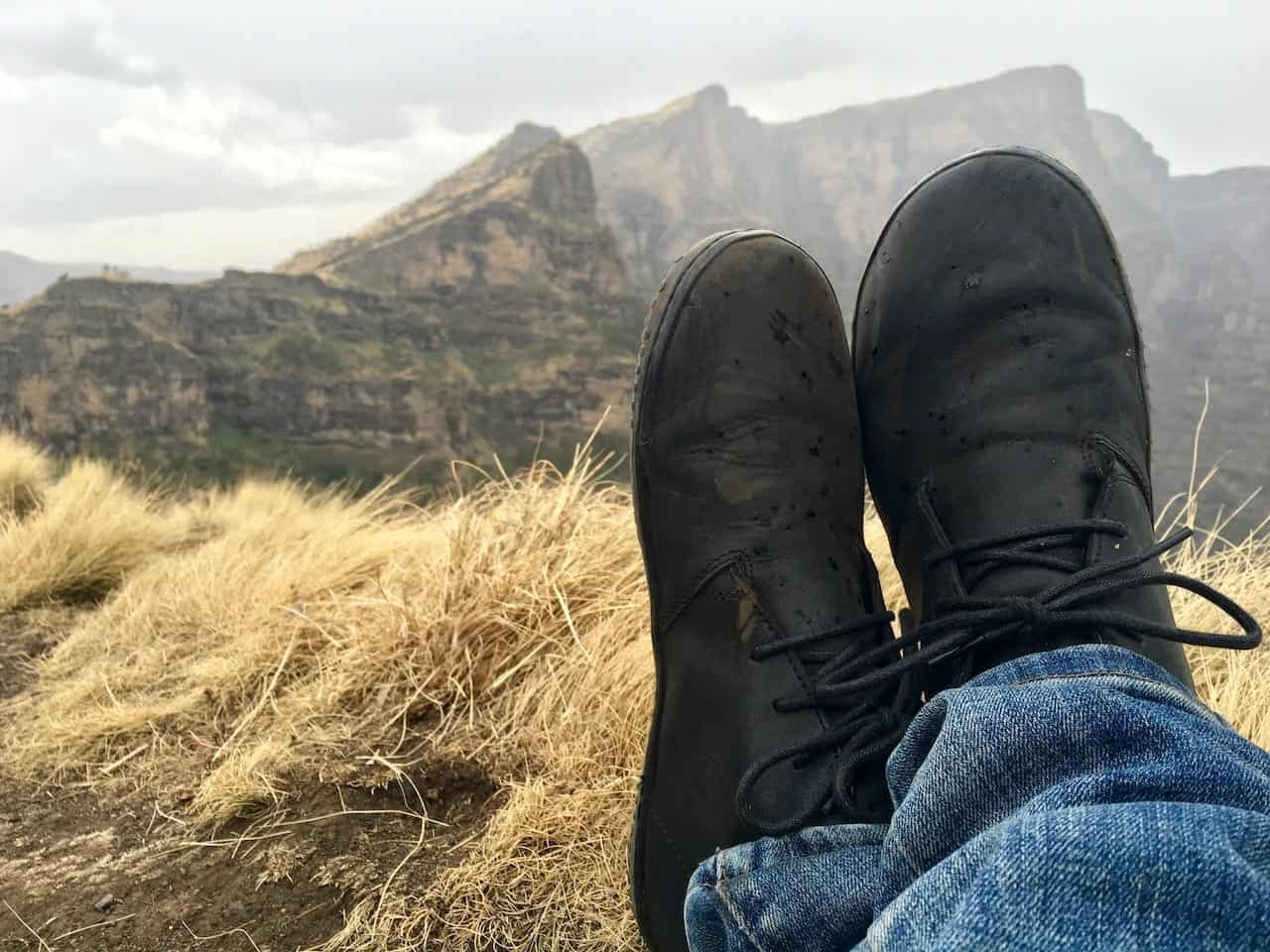 Update: I am now finding myself wearing Xero Shoes almost exclusively. Check out my nice collection: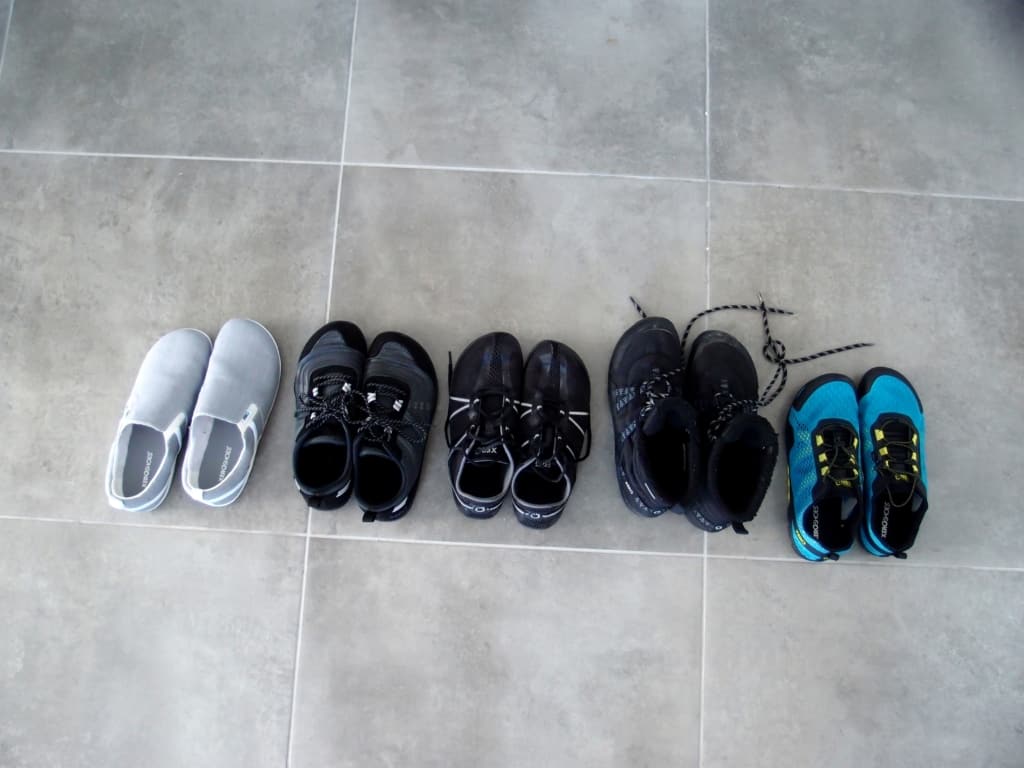 The Aptos are the nicest day to day, slip on – slip off pair of shoes. The speedforce are my favorite running or gym shoes in the summer, the 360, in the winter. The Alpine are incredible for Skii trips or other colder climates. The Aqua sport are really comfy for running at the beach or other messy terrains (their material is non-absorbant), plus I love its "lacing" mechanism, much more comfortable than traditional laces, and much firmer than the Aptos. All of the pairs above are nice.
I still wear the Carets for anything "official" or fancy, but for most other purposes, the Xero Shoes are my go-to. The Boulder boots's sole have disconnected from the leather fairly shortly after I started using them, but the Xero Shoes (every single one of my pairs) have all held on. I still use the Boulder, but I suspect soon I'll have to get rid of them. My full collection nowadays (5 XeroShoes, 1 BoulderBoots, 1 Carets):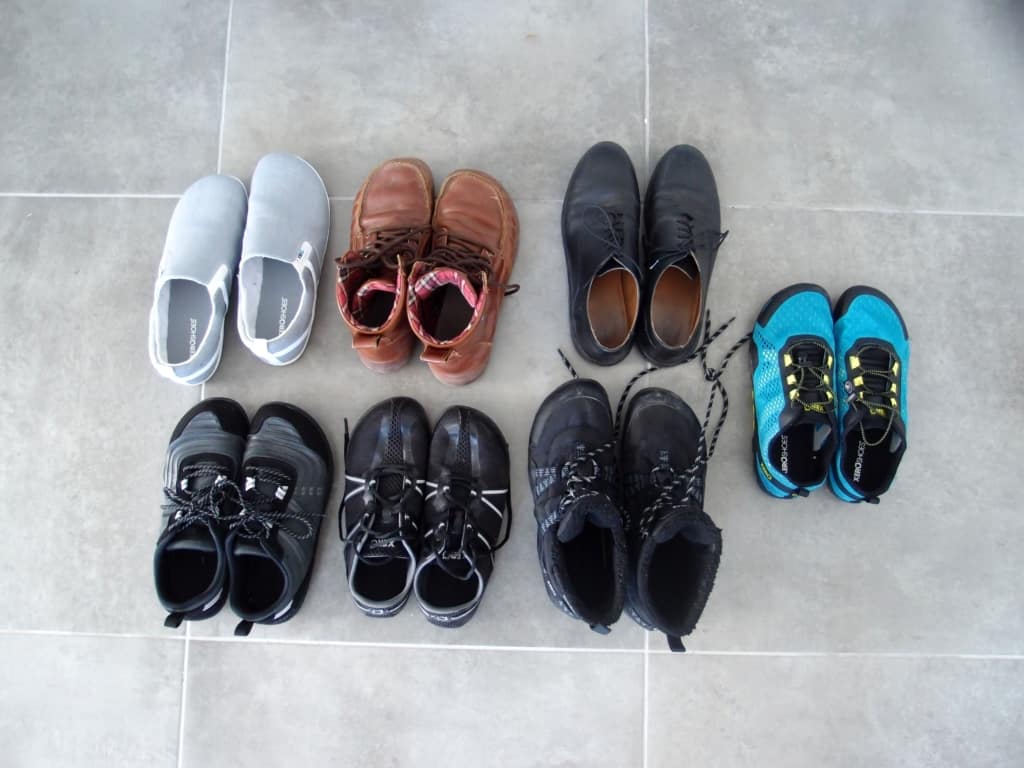 When I travel, I pick whatever pair makes most sense for that particular trip. For example, I went to ski in Italy two months ago – the XeroShoes Alpine was absolutely priceless. Kept my feet toasty and happy.
Smartphone
---
When Apple started using their dual-lens technology (bought from Israeli startup Lynx Imaging), my life as a photography enthusiast changed.
In the past I used to carry a DSLR. But DSLRs are massive and heavy. Also, I never felt comfortable walking with a DSLR into a poor village, where people can barely afford a good meal. It felt like arrogance.
Luckily, smartphones have gone a long way. Check out those unedited photos I took in Canada with my iPhone 7 Plus a couple years ago: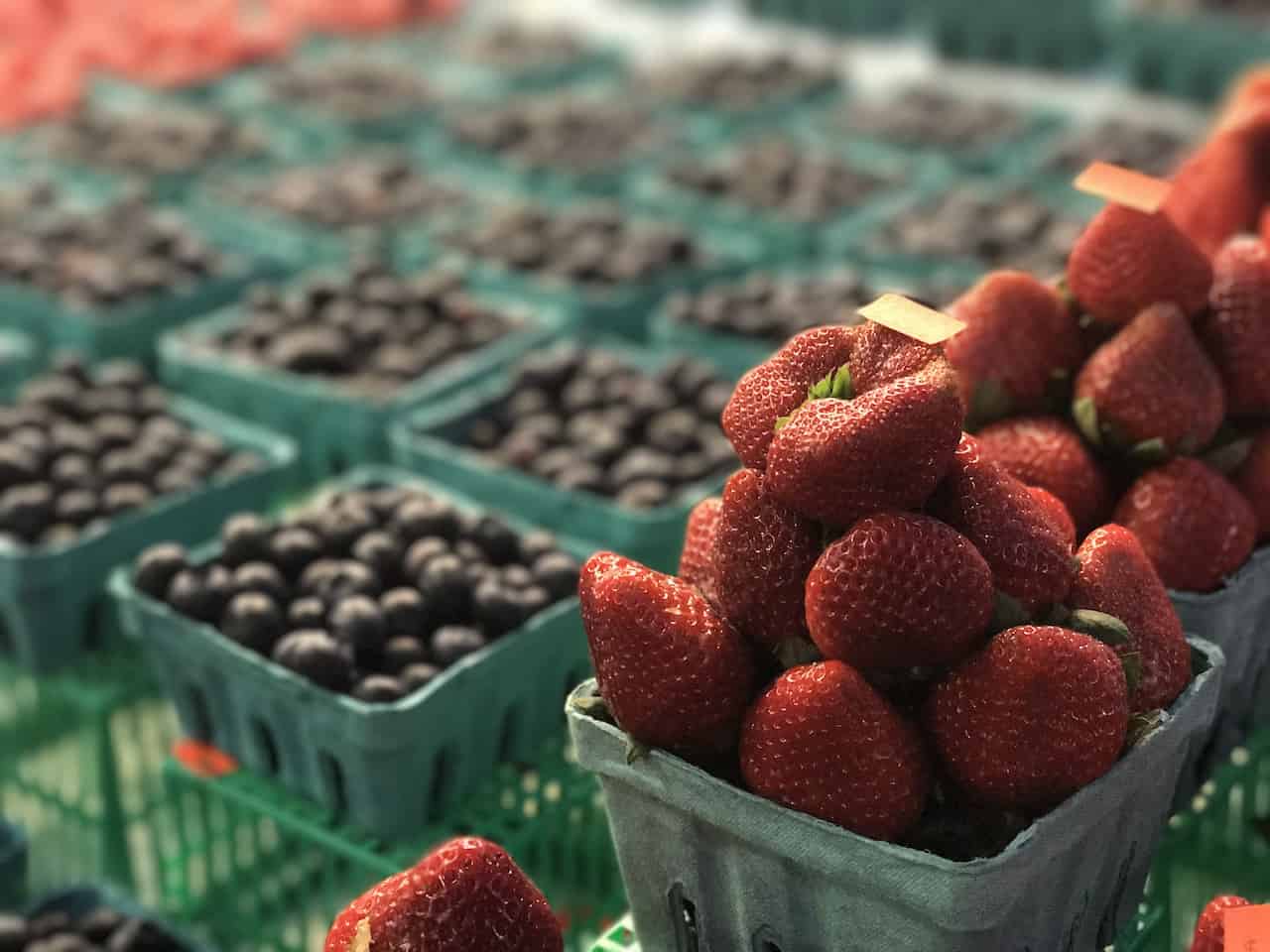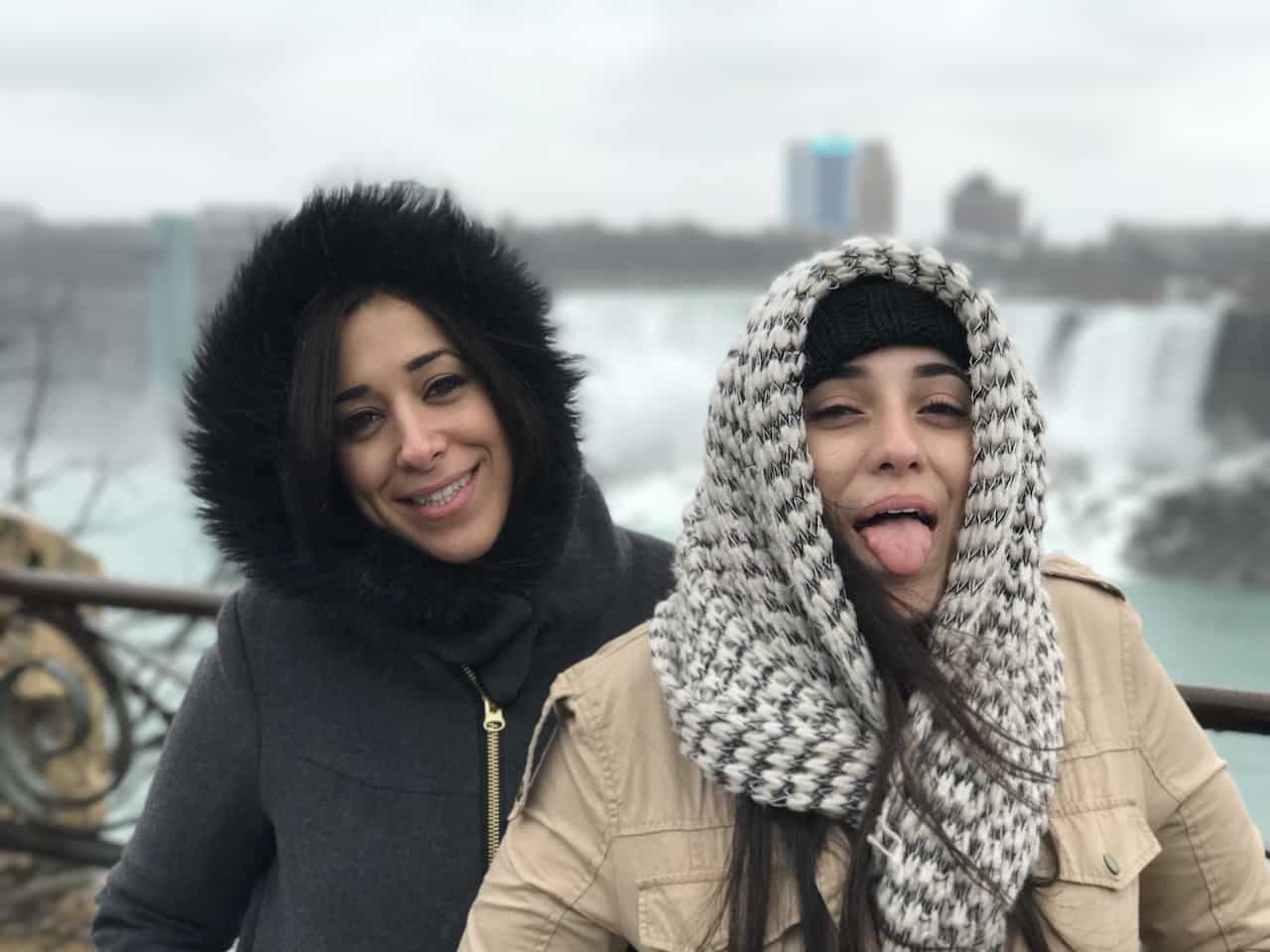 Who would have thought we'd ever be able to get a nice bokeh (blurred background) with a smartphone? It does it by using a setup of two lenses and combining the input computationally. Having two lenses of different focal lengths also means you can zoom in and retain quality: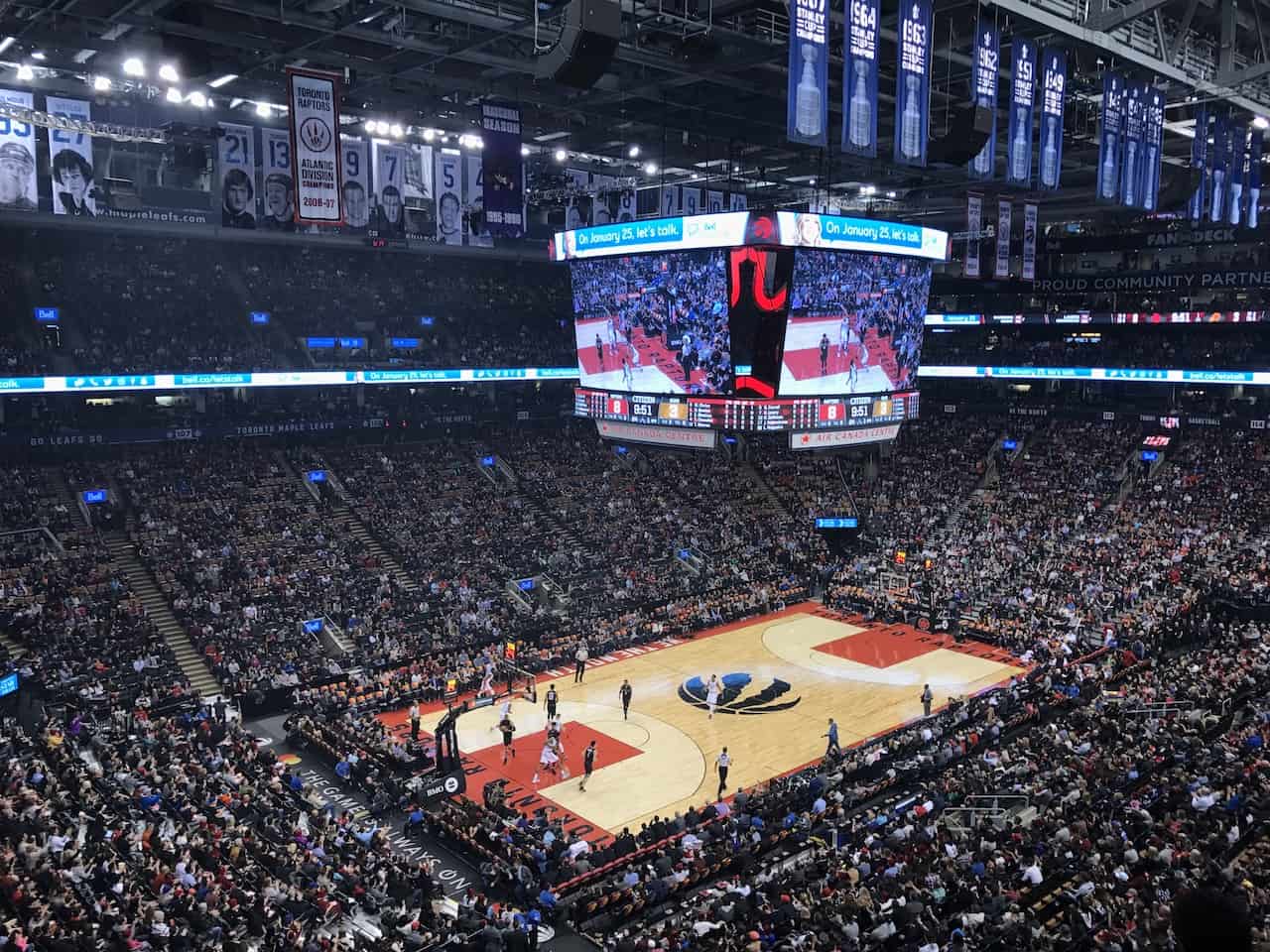 These days, I'm using a Pixel 6, which is much newer and takes even better photos. And the wide lens is a killer for landscapes.
When you have a smartphone that can take this kind of photos, you have an exceptionally powerful device in your hands. This, and merino wool, are what truly allow us to go No Bag without sacrificing anything.
The smartphone really is amazing:
No need to carry a laptop – book flights, read news, respond to mails, all from that tiny device. No need to carry a notebook for notes. No need to take scuba dive / workout / vaccination logs. It's also your clock, music player, eBook reader, and GPS. Download maps. Monitor your business. Stay in touch with family and friends. And now it has an amazing camera. All in slim waterproof chassis that easily slides in your pocket.
However, you must be careful. The easiest way to corrupt your travels is to constantly check your emails, browse social media, and get a false sense of home. Don't let it destroy the sense of adventure you've been craving so much. So, use Airplane Mode generously.
Sometimes, I'll travel with my old, compact Olympus XZ-1 and leave the smartphone at the hotel. It just feels more natural when you ask locals to take photos of themselves. With the Olympus, it feels like you're a photographer making art. With the smartphone, they think you're a pervert who wants to share their photos over WhatsApp. In cold weathers, where your fingers are stiff, it's especially nicer operating a camera made of physical buttons, rather than the touch-screen of a phone.
By the way, I recommend Airalo if you need constant internet access for your GPS. It gives you eSIMS for almost any country, at great prices.
Toiletries
---
No Bag doesn't mean you need to smell. Don't neglect your hygiene.
Deodorant
Did you know that sweat itself doesn't stink? It's only when it comes in contact with the bacteria in your armpits that it does. Neutralize that bacteria and you neutralize the odor.
But, don't use normal, anti-perspiration deodorants.
First, your body needs to perspire. Second, normal deodorants contain toxic substances that you don't want absorbed in your body. Third, they leave icky stains on your expensive wool shirts. The solution?
Sodium bicarbonate (baking soda).
I use it all the time, even at home. When I travel, I carry it in a tiny 3g cosmetic container. You don't need much; a small amount will last forever. I apply the soda after my morning shower. It's potent – put much less than you think you need. If I use too much, you get armpit rash.
Years ago, I used a Thai crystal stone (potassium alum, not the synthetic ammonium alum). It works, but it's much bulkier. Not suitable at all for No Bag Travel. Both the stone and baking soda prevent bacterial growth, allowing you to perspire without smelling.
Toothbrush & Toothpaste
I carry a Tom's of Maine travel size toothpaste. Tom's doesn't contain any nasty substance like peroxide. Combine with a travel toothbrush like this or this and you're set. If you're taking a bag, no sense in compromising, you have the space for a normal toothbrush.
Soap
I tend not to carry soap, because hotels always have them. When, however, I go off the grid, I'll grab a travel size bottle of Dr. Bronner. You can use it to both clean yourself and your clothes, if needed. It's a very concentrated all-natural soap, a little bit will last forever. If you want a good way to carry it, use a GoToob. Up to 3.5oz is airplane-friendly.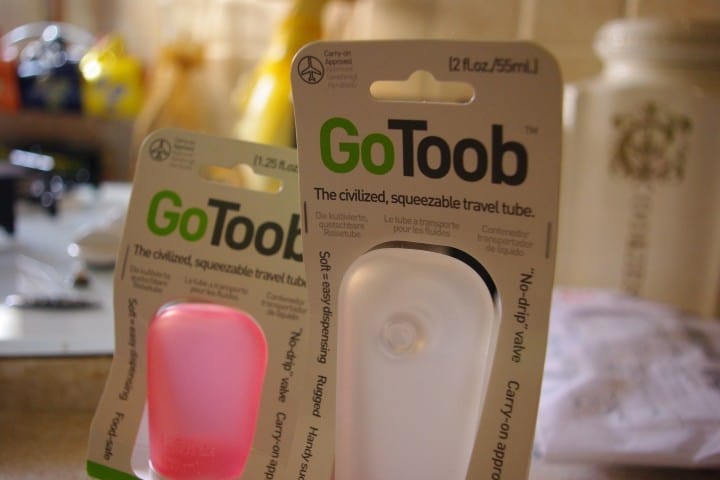 Other Items
---
A Minimalist Towel
Get a PackTowl. When my sister joined the Israeli Defense Forces, I gave her one of those. She was shocked when she used it after a shower, hung it dry on a clothesline under the sun, and found it 100% dry exactly 8 minutes later. If I stay out in the wild, I'll take a Packtowl Ultralite.
A Minimalist Wallet
For the past couple of years, I have been using a KOOLSTOF money clip. It takes little space, it's super lightweight, it holds your bills and cards tight and always springs back to its original shape, it passes through airport security without upsetting the metal detector, and it looks awesome. By the way, there are cheaper carbon fiber money clips on Amazon.
But, there's one main drawback that made me give up on the money clip. The inserting and taking out the cards scrape the cards. My RFID chip has completely stopped working on the credit card, and some text was scraped off on one of my other cards. So I resorted to a more traditional minimalist wallet. I tested a good bunch, and ended up with these:
Vaultskin KENSINGTON (Amazon)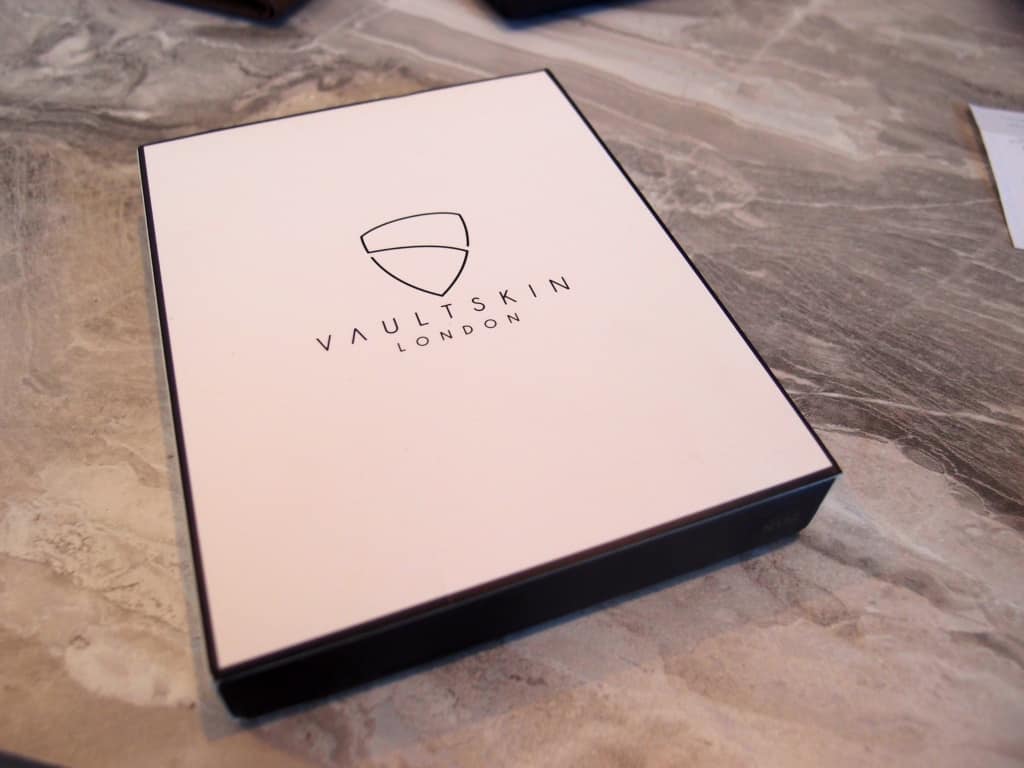 I love this one. It's intended for single passport use (as shown on the fourth photo), but I found out you can use it for dual-passport as well by simply placing them on the outside sleeves, where boarding passes are supposed to go. The leather is very high quality to the eye, touch, and nose. It has four pockets for cards, although two of the pockets can fit two each. When I go No-Bag, I'll use this passport exclusively.
Vaultskin MANHATTAN (Amazon)
This one is the Kensington's little brother (as you can see from the last photo). They pair each other really well. I use this one daily back at home, where I don't need to carry my passports, or when I travel with a bag, in which case I'll have the smaller Manhattan in my pocket, and leave the Kensington with the passports at the hotel. The wallet is just as well made as the Kensington. It has four internal slots for cards, though the two inner ones are difficult to reach. It also has one external card pocket for frequent use, which is very comfy to store your room key in.
Andar Monarch (andar.com) or Scout (andar.com)
If you want a wallet with an even smaller footprint, the Andar wallets are great. My friend, who also travels with me from time to time, uses the Scout (the one with the middle pocket for bills) and absolutely loves it. If you live in a cashless country, like Iceland, the Monarch will be even cleaner, though I have mixed feelings about its pull string mechanism. Anyway, both are high quality leather, handcrafted by a legit brand from Arizona. This is not one of your Chinese brands on Amazon.
Andar Atlas (andar.com)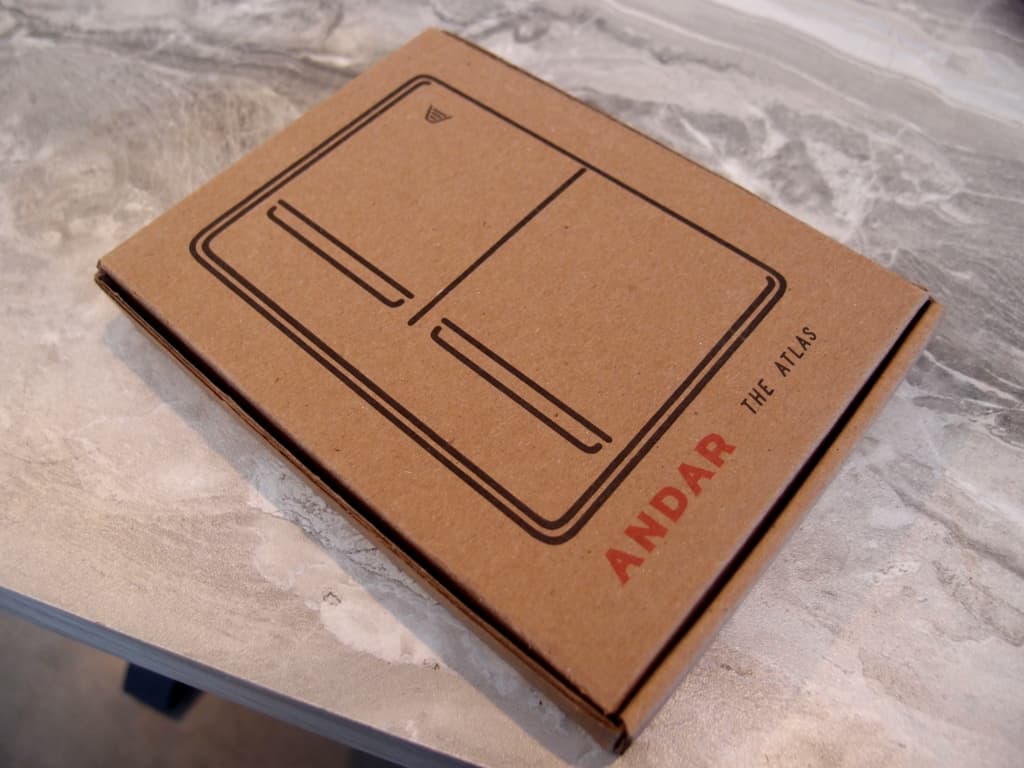 If you have just a single passport and want something slim for it, the Andar Atlas is really nice. Its only problem was that the passport wouldn't slide all the way down (as you can see from the photo). To solve this, I just detached that pulling-string mechanism, cause it was blocking the passport from going deeper. It's great now, and the passport is easy to pull even without the string. It's the slimmest passport wallet you'll find that can also hold a couple cards, boarding passes, and cash. I like it.
Habitoux Passport Wallet (Amazon) + Hissimo Bitfold Wallet (Amazon)
If you're short on cash but still want a passport wallet and/or a regular minimalist wallet, those two are nice. No, not as nice as the Vaultskins or Andars (notice the glue on the bottom of the Hissimo), but nice. They'll cost you about half of what the more premium combos will cost you.
By the way, if you pick a cheaper wallet, its RFID function may be a bluff. You can check this by trying to wireless-pay with your card while its inside the wallet. If the payment goes through, the wallet doesn't protect anything. In such a case, you can use Vaultskin's VAULTCARD. Simply put it inside the wallet, and it will protect any RFID chip around it:
Rescue Whistle
Imagine you're lost in a jungle trek (happened to me in Costa Rica), or stranded in the ocean (boat, scuba diving or paddle boarding troubles, etc), or being chased by a pack of wild dogs, or, if you're a woman, being followed by someone when you're alone. In such cases, a whistle could save your life. Shouting is demanding, and often not loud enough. The solution is a rescue whistle. Just read these Amazon reviews:
"Never thought I'd need to use it, but sure enough, I got stuck in a tree well while skiing. Scary as hell. I have it attached to my zipper pull on my Patagonia shell jacket which made it easily accessible. That's a big deal when you're hanging upside down in a tree well, using one hand to hold onto a branch for dear life. I blew this thing like my life depended on it. Sure enough, after about 5 minutes, another skier heard it echoing through the woods and found me. Fortunately I wasn't immersed in powder. I could breathe and extract myself after I calmed down. Could have been much, much worse."
"This whistle is extremely loud. I got it to scare off bears while hiking. Even though all my trail buddies laugh at my "rape whistle", I'll take all the jokes if it works as intended just once in my life!"
"When I bought this whistle, I imagined it would be nothing more than one of the many trinkets I own for emergency situations, but never use. I brought this whistle with me on a family vacation the Philippines. Everyone poked fun at the whistle because I tend to be over prepared. But no one could foresee that this little whistle would be the one thing that actually saved our lives! My family and I were on the island of Palawan and rented a private boat tour for the day. We were supposed to tour a few different islands in the area and be brought back to shore. About midway through our tour, in the middle of the ocean our boat was cut into by the massive waves (what our "captains" neglected to mention was that a Gale warning was in effect and boats were supposed to be out of the water hours prior) and in a matter of seconds our boat completely submerged. We grabbed everything we could and with our life jackets strapped on were floating in the middle of the ocean- no swimmable land in sight. I went into survival mode and the first thing I did was blow with fierceness into this whistle, weary that anyone would hear it but feeing as though it was our only hope. Our boat had no method of communication, no walkies or dispatch. It also ran on a gasoline engine- we were drenched in gasoline as the 3-4ft waves thrashed around us. After about 5 minutes of using this whistle a boat appeared in the distance. What we would find out later was that they were on their way to shore (also due to the intensity of the waves) and that they could not see us because of the height of the waves, but the only thing they could hear was the blowing of our whistle and the very tip of our boat before it sank completely. This whistle saved our lives, and no one was laughing at it afterwards! I've had many family members and friends who have asked me for the link to purchase. I definitely recommend having this whistle with you if you're out on the water, it's truly a lifesaver."
"It once saved my life in a scuba diving accident. While floundering in the ocean, I blew SOS and was heard all the way to shore; several miles away. I was rescued as a result."
Convinced now?
OK, so whistle should you get? Look for a couple features:
High decibel count (100+) so it can be heard from a mile away.
Pea-less design to eliminate the risk of jamming/freezing (no moving parts). Also blows when wet, and eliminates rattle when walking.
Doesn't take a lot of breath. Fell and broke a rib? You won't be able to give a hard blow. You want to turn heads with minimal lung effort.
Ultralight, portable and comfortable to carry; flat if possible!
Bright design so you can easily find it.
Plastic. Won't stick to your mouth when cold.
Good options that checks all the above:
Hopefully you'll never have to use this whistle. If you do, you'll be forever thankful you had it. These whistles are cheap, powerful, and barely weigh anything or take any space. There really is no excuse not to have one.
P.S. Every woman should have one in her purse, even back at home when not traveling. Bad guys are everywhere, and they hate attention drawn.
P.S.#2 These whistles scream like a banshee. They'll leave your ears ringing. Use only in emergencies! Anyone around will hate you.
P.S #3 The universal distress signal is three consecutive blasts. Wait 20-30 seconds before you repeat the blast pattern. By the way, one blast means "Where are you?", two blasts "Come to me", and three is "Help".
eBook Reader
When you No Bag, just use your phone. Hopefully you bought one with a large screen, so that it can sustain long reading sessions. If you do carry a bag (for work purposes, carrying a laptop, etc), just throw in an Amazon Kindle or your favorite eBook reader. Compared to a phone, reading on an e-ink screen is much nicer, especially if you read outside in the sun.
Minimalist Travel Gear
---
"I also have in mind that seemingly wealthy, but most terribly impoverished class of all, who have accumulated dross, but know not how to use it, or get rid of it, and thus have forged their own golden or silver fetters." – Henry David Thoreau
"Life is really simple, but we insist on making it complicated." – Confucius
---
As you see, everything fits inside your pockets. No need for a bag or vest.
That's it.
You now have at your disposal the most minimalist packing list you'll ever find. Go out, use it, and enjoy life to its true potential. I wish you loads of sexy adventure, and the safest of travels. Rock on!