If you're a non-US self-publisher, you must have noticed that Amazon, CreateSpace, SmashWords and other US-based companies withhold 30% of your earnings for tax reasons. Last month I finally took the initiative, called the IRS and solved it once and for all. Unlike other popular but extremely long and tedious guides, this post will be as precise and as short as possible.
Goodbye 30% Withholding Tax on Royalties
US-based companies are required by law to withhold 30% of your earned royalties until you settle your tax information. To do that, some international publishers would go through months of filling forms, paying fees and visiting the American embassy to get an Individual Tax Identification Number (ITIN).
What they didn't know is that there's a much quicker way. So quick that you'll be done with it in half an hour, in your pyjamas, without paying a dime.
Step 1: Get an Employer Identification Number (EIN)
International non-US authors are viewed as small business owners by the American IRS and can easily get an EIN with a short phone call. The awesome part? With the EIN you're not subjected to the 30% withholding tax rules anymore.
Call the IRS at +12679411099 and ask for an EIN. If they ask, tell them you're a "sole-trader" selling ebooks on Amazon. They *might* ask you for an SS-4 form. Getting this form takes time and fees and soul-sucking forms. Normally you can just say thanks, hang-up and call again, but.. it took me half an hour to reach them on the phone!
What did a seasoned Israeli guy do? told them I got this form already filled but left it in my office. The guy said "Ok" and continued, so feel free to follow my oblivious behaviour to save yourself the time, money and unnecessary headache.
Now give em your details EXACTLY as they are. Spell out loud everything until you're certain the information is correct. If you haven't registered a company in your country yet (you'll have to do that eventually for tax purposes), just give them your personal name as the company's name. They don't ask for any proof that it actually exists.
That's it! They'll now give you the EIN. Write it down somewhere safely, put a copy in your Dropbox, and mail it to yourself as a backup. Go get a cup of good coffee, the hard work is done. 30% withholding tax on royalty payments will soon become history for you.
Step 2: Update Your Tax-Information
Now all you have to do is update your tax-information and you're done. Some good news for you: you no longer need to print and fill the W-8BEN form and send it to Amazon and CreateSpace offices in the U.S. You can do it online in a minute!
Amazon KDP
Go to your Account and scroll down to Tax Information. Click on "Complete Tax Information" to fill-in the 'online tax interview'. When you're asked "Do you have a U.S. TIN?" click Yes and fill in your EIN number. Submit the form when done. It took them about ten days to approve mine.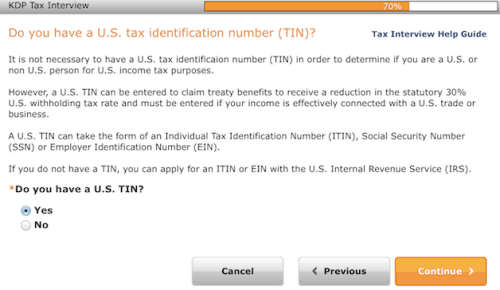 CreateSpace

Go to your Account and click on 'Edit Account Settings'. Go to 'Tax & Business Information', click Edit and fill in your EIN in the 'Tax Identification Number' field. Save and you're done.
You should have similar procedures through the account settings on Smashwords and other publishing platforms.
Final Tip: I recommend getting this whole royalty withholding tax process done as fast as possible, preferably before publishing your first book. According to frustrated Amazonians, getting withholdings back later is a huge headache involving applying for an IRS tax-refund. I didn't even bother.
Bonus: Royalty Withholding Tax Rates By Country
How much royalties withholding tax deduction are you entitled to? I've reduced it from 30% to 10% because my country (Israel) has a 10% tax treaty with the U.S. Most Europeans are entitled to a big round 0. Here's the full list, updated to August 2014:
Australia: 5%, Austria: 0%, Bangladesh: 10%, Barbados: 5%, Belgium: 0%, Bulgaria: 5%, Canada: 0%, China: 10%, Cyprus: 0%, Czech Republic: 0%, Denmark: 0%, Egypt: 15%, Estonia: 10%, Finland: 0%, France: 0%, Germany: 0%, Greece: 0%, Hungary: 0%, Iceland: 0%, India: 15%, Indonesia: 10%, Ireland: 0%, Israel: 10%, Italy: 0%, Jamaica: 10%, Japan: 0%, Kazakhstan: 10%, South Korea: 10%, Latvia: 10%, Lithuania: 10%, Luxemburg: 0%, Malta: 10%, Mexico: 10%, Morocco: 10%, Netherlands: 0%, New Zealand: 5%, Norway: 0%, Pakistan: 0%, Philippines: 15%, Poland: 10%, Portugal: 10%, Romania: 10%, Russia: 0%, Slovakia: 0%, Slovenia: 5%, South Africa: 0%, Spain: 5%, Sri Lanka: 10%, Sweden: 0%, Switzerland: 0%, Thailand: 5%, Trinidad & Tobago: 0%, Tunisia: 15%, Turkey: 10%, Ukraine: 10%, United Kingdom: 0%, Venezuela: 10%
The IRS lists Commonwealth of Independent States as 0% so I guess all other CIS members Armenia, Azerbaijan, Belarus, Kyrgyzstan, Moldova, Tajikistan and Uzbekistan are all 0%. All other countries don't have any tax treaty with the U.S and will retain the 30% withholding tax rates.
Enjoy your writing journey, I wish you the best of success.