Let's talk about vitamin B12 injections.
With B12 deficiency so prevalent these days, you need to have the right type of treatment to combat this nasty illness before any permanent neurologic damage occurs. But what exactly is the best treatment? If you listen to most doctors — that is no doubt vitamin B12 shots. Well, are they right?
The sad reality is, doctors know very little about nutrition. That's not their fault. That's just how medical schools train them. I know this because I have good friends who are doctors. However, they actually might be onto something when they automatically prescribe B12 shots to anyone they find deficient.
Important: B12 deficiency left untreated can cause irreversible damage to your brain and nervous system. Once neurological symptoms have kicked in, you have a very short window to do something before things get crippling. If you suspect you're deficient, get the necessary tests done. This small effort could save your quality of life.
Can Vitamin B12 Shots Save Your Life?
How could it be that simple? Wouldn't doctors know if it's a B12 deficiency? No. That's because this topic is not covered well in medical schools which is why many doctors do not test for it routinely. I know this because I'm a doctor myself. (Dr. Aqsa Ghazanfar)
B12 deficiency can be brutal.
At first you may feel just an overall lack of energy. You think to yourself, this must be my job or something. But then tingling sensations and muscle tremors start to appear. That's when you begin to worry. And rightfully so. Left untreated, a prolonged B12 deficiency can eventually put you on a wheelchair, forcing tremendous stress and burden on your entire family. But wait a sec…
Can vitamin B12 injections counter all that?
Vitamin B12 Injections Benefits
To understand the benefits of vitamin B12 injections, you should first understand the nature and mechanics of B12 deficiency. You see, not every B12 deficiency is created equal.
Some are caused by a very low intake of vitamin B12 (such as with vegan diets), some by toxins destroying B12 in the body (like cyanide in cigarettes), some by parasites competing for your B12 (like fish tapeworm), but most are caused by intestinal malabsorption. That's where vitamin B12 shots truly shine.
Vitamin B12 Directly to Your Bloodstream
Here's the first thing to realize: You CAN become deficient in vitamin B12 even if you consume a ton of B12 in your diet. How's that possible?
The absorption of B12 involves several steps, and conditions such as intestinal dysbiosis, leaky gut, atrophic gastritis, low stomach acid, degradation of the GI tract, pernicious anemia, alcoholism, acid-suppressing medications, exposure to nitrous oxide, can all make the process go wrong.
In fact, the famous Framingham Offspring Study shows that vitamin B12 deficiency is more common than previously believed, and is most significantly due to improper absorption rather than low consumption. And so:
The biggest of all vitamin B12 shots benefits is their ability to bypass those intestinal absorption issues to rapidly fill up your stores.
It's the reason why B12 injections are the best treatment for patients suffering from pernicious anemia, an autoimmune disease which destroys parietal cells in the stomach that secrete intrinsic factor. Left untreated, this anemia can be fatal. Oral supplements, or B12 rich foods, just won't work in these cases.
"The true potency of B12 shots is their ability to bypass absorption issues and deliver B12 directly into the bloodstream.
This discovery — that high-dose vitamin B12 can be administered in shots and overcome absorption deficits — has given new life to patients with an otherwise gruesome and potentially fatal disease.
Actual Benefits of Vitamin B12 Injections
Now yeah, B12 shots bypass any absorption issues and are extremely efficient and fast in getting your B12 stores filled up. But the key point is this:
Vitamin B12 injections will do wonders to your body only if you're deficient. If you take the shots while your B12 stores are normal, you won't notice any difference. If you are deficient, here are the B12 benefits you can expect:
Feel Alive Again
Know why Madonna, Rita Ora, Justin Bieber, Katy Perry, Victoria Beckham, Simon Cowell, Justin Timberlake and many other celebrities are reported of having injections of vitamin B12 on a regular basis?
If I had to guess, that'd be to improve their energy levels. After all, that's the most well-known benefit of B12 shots, right?
Vitamin B12 is involved in the metabolism of fats and carbohydrates. If you've been deficient for a while, newly-restored B12 levels will have a somewhat magical effect on your energy levels. You'll feel more upbeat. More energized. More alive. Ashley Barrient, R.D., of the Loyola Center for Metabolic Surgery and Bariatric Care administers the shots and says:
Research shows that when someone is deficient and you supplement, there is an improvement in energy.
Suffering from chronic fatigue or muscle pain? Research suggests vitamin B12 injections may help with that too.
Avoid Irreversible Nerve Damage
I'll say it again:
B12 deficiency left untreated for a prolonged period can cause serious, permanent damage to your nerve system. This is the number one reason why you should hurry up and get your B12 levels back up if you're deficient.
But why exactly does it happen?
Think of your brain and nerve system as a huge, dense tangle of wires. Around each of those wires, there's an insulating sheath called myelin, and vitamin B12 is involved in the synthesis and repair of this very protective layer. Without it neurons can't conduct nerve impulses properly, and your body suffers.
So, suppose you touch a hot object. The nerves on your skin detect this and immediately transmit this info as a nerve impulse to your brain, which in turn orders your hand muscles to instinctively draw backwards. All of this happens in a fraction of a second. See why nerves are crucial?
This is the reason why B12 deficient people often feel "pins and needles" and other nerve-related sensations. If you experience any of it, act fast. Permanent damage to nerve tissue can occur if left untreated for months.
To minimize nerve damage, B12 shots are essential for highly deficient people. Studies show that very high doses of methylcobalamin B12 may promote neuronal function and enhance nerve regeneration.
Optimize Your Hormones
Each cell in your body is surrounded by cell membranes.
Without vitamin B12's stabilizing effect on those membranes, hormones are going to have a hard time entering your cells and may end up floating around in the bloodstream until excreted.
Are you deficient in B12? Then refill your B12 stores to optimize your hormones, and you will feel the difference. After a series of vitamin B12 injections, most deficient people report a much better mood. You're also likely to feel stronger, and with a healthier libido.
Avoid Brain Shrinkage and Cognitive Decline
Vitamin B12 deficiency is often associated with cognitive deficits.
One study conducted by Dr. Christine C. Tangney from the National Institute of Aging observed 121 people (all 65 or older) and found that:
Concentrations of all vitamin B12–related markers, but not serum vitamin B12 itself, were associated with global cognitive function and with total brain volume.
The researchers observed the B12 levels and cognitive performance of the subjects at the beginning and the end of the study. MRI scans were taken as well as B12 deficiency markers. The results? Lo and behold:
The closer a subject was to being B12 deficient, the lower their score was on the cognitive tests. Memory and concentration were both improved on subjects with better B12 markers. Most interesting, the MRI scans showed that those who were B12 deficient actually had their brain SHRINK!
Another study finds similar results:
High-dose B-vitamin treatment (folic acid 0.8 mg, vitamin B6 20 mg, vitamin B12 0.5 mg) slowed shrinkage of the whole brain volume over 2 years … Our results show that B-vitamin supplementation can slow the atrophy of specific brain regions that are a key component of the Alzheimer process and that are associated with cognitive decline.
Low vitamin B12 levels are also associated with neurodegenerative disease and cognitive impairment. If you're deficient, shots can help:
There is a small subset of dementias that are reversible with vitamin B12 therapy and this treatment is inexpensive and safe. Vitamin B12 therapy does not improve cognition in patients without pre-existing deficiency.
B12 deficiency is estimated to affect about 40% of people over 60 years old. It is entirely possible that many of the symptoms we attribute to normal aging are caused to some degree by B12 deficiency. Keep your B12 levels at check and you'll lower your risk of alzheimer and other diseases of cognitive decline.
If you're not deficient, you aren't likely to enjoy any additional cognitive benefits. But if you do have a deficiency, hurry up, because there seems to be a time-limited window of opportunity for effective intervention. Refill your stores with vitamin B12 injections and you're likely to see a noticeable improvement in your focus, memory and overall cognitive performance.
Keep Away From Anemia
Have you ever seen an anemic child? It's tragic. The weak, malnourished state. The dry skin. The scarce hair. What's unfortunate is, many kids slip away with anemia unnoticed simply because early symptoms are hard to notice, and kids won't just tell you they feel like they should see a doctor.
But imagine if a child close to you suffered from this horrific illness all because of a deficiency of such a simple, available nutrient?
Of course, many adults suffer from anemia too.
The way vitamin B12 works is it reacts with folate into a form that our body can use to create red blood cells, those tiny dic-shaped cells that carry oxygen. If you are deficient in B12, your body can't create enough red blood cells, and you become anemic. Vitamin B12 injections are the quickest fix.
Safeguard Your Child From Developmental Disorders
Even when an adult adopts a vegan diet, it may take years before B12 deficiency appears. It's because our organs, especially the liver, contain large stores of vitamin B12. But not so for little kids, whose deficiency symptoms tend to appear a lot sooner. Especially troubling are the effects of B12 deficiency on kids raised on a vegan diet. One study finds:
a significant association between cobalamin [b12] status and performance on tests measuring fluid intelligence, spatial ability and short-term memory with formerly vegan kids scoring lower than omnivorous kids in each case … reasoning, the capacity to solve complex problems, abstract thinking ability and the ability to learn. Any defect in this area may have far-reaching consequences for individual functioning.
Remember, a child's nerve system isn't yet fully developed, and an advanced B12 deficiency can leave a serious, irreversible footprint on their brain and nerves. You should periodically test your kids for vitamin deficiencies, and if you suspect they need B12, take care of that fast.
Pregnant women should also be aware.
If you're a B12 deficient pregnant women, your child too may end up deficient and suffer from developmental delay, decreased muscle tone, poor head growth, language delays or speech problems, poor motor skills, lower IQ, vision problems, fatigue, tics, chronic constipation, and more.
Pregnancy can also make a pre-existing deficiency dramatically worse, because B12 is transferred to the fetus through the placenta and later on distributes into breast milk in amounts similar to those in maternal plasma.
If you're a pregnant women with a pre-existing B12 deficiency, early treatment should never be withheld. In that case, vitamin B12 injections can save your sanity, and your child's life.
Important: Women diagnosed with postnatal depression or psychosis should immediately be tested for B12 deficiency markers, including serum B12, uMMA, and folate.
How About Vitamin B12 Injections for Weight Loss?
A lot of people turn to vitamin B12 shots for weight loss purposes. But just like the rest of the benefits of B12 injections, they can only help you boost your metabolism and lose weight if you lack B12 in first place.
If you are B12 deficient and start taking vitamin B12 shots, your metabolism is going to speed up, making you burn more calories even when idle. Plus the new energy is going to make you more likely to move and exercise.
The girls in this video inject the cyanocobalamin form of B12 intramuscularly. Instead, I recommend using methylcobalamin subcutaneously. Methylcobalamin is a purer form, and subcutaneous injections are painless.
So yeah, vitamin B12 injections will help you lose weight if you're deficient. But you shouldn't see them as your solution to a healthy living. Instead, keep your body active and eat a diet full of fresh vegetables, fruits, meats, eggs and nuts, and your body weight will naturally trim.
Save Time, Money and Headache
Taking into account the long term costs of medical treatments, vitamin B12 shots can save you a lot of money and time when you use them to combat an advanced B12 deficiency.
If you need the shots but think you can't afford them, think how little their cost is compared to what you'll spend later if you don't recover in time. Doctors, medicines, surgeries, this can all cost a fortune.
Think of vitamin B12 injections as treasure. Not too long ago, deficient patients had no choice but go into complicated procedures. To think that we can now order B12 shots with the click of a button is nothing less than miraculous.
Where to Buy Vitamin B12 Injections Online?
Looking for vitamin B12 shots for sale? Then look no further than Trim Nutrition. I have been recommending this brand for years with great success. They're reasonably priced, well regulated, made in Florida, and they use methylcobalamin, which is the best form.
---
Update: It is no longer possible to buy Trim Nutrition's B12 shots online. There have recently been new and very strict state and federal regulations — by the FDA and the states Board of Pharmacies — regarding compounding pharmacies and purchasing directly online.
This has made a huge impact on the online availability of vitamin B12 injections. These regulations now require a physician to be licensed in the state where the customer is located in order to prescribe the B12 shots.
As a solution, Trim Nutrition moved to a "telewellness" format (much like telemedicine) under the name of TeleWellnessMD. The good news: You can still get B12 shots from them. The bad news?
This requires scheduling a wellness consultation with them. This costs both time and an extra $50.
They only ship to states where they have a physician located to do the prescribing. If you live outside the U.S., you can't buy from them.
Therefore, I would like to suggest a better route:
Update II: B12 Injections Now Available (Shipping Worldwide)
Due to the recent unavailability of B12 shots online, I partnered with Oxford Biosciences to offer the ultimate B12 supplement, a vial of 40,000mcg pure, high-quality methylcobalamin. It's great:
No prescription needed! The vial contains pure methylcobalamin to which you'll add saline and then inject. You'll have to buy syringes and saline in a pharmacy (costs a few dollars). This allows the vial to be labeled as a vitamin supplement and not 'injections', because it ships without needles. This means no more time and money wasted on expensive consultations just for prescription.
Free international shipping. No matter where you live — no matter what country or continent — the methylcobalamin will be shipped to you through Royal Mail and arrive within a week or so.


Absorbs better. For example, TeleWellnessMD (which again, is a great company) uses sterile water to dissolve their B12. This is not optimal. If your read research of methylcobalamin you will see that it is best absorbed when dissolved in an isotonic solution, which is saline. No one should use water.


Much less painful. Several studies reported severe pain with water injections but little to no pain with saline injections. This happens because our body is saltier than sterile water. When you inject water, the body equalizes the salinity, causing the painful stinging. Also, you'll get instructions on how to inject subcutaneously (SubQ) rather than intramuscularly (IM). IM is painful and puts people off self-injecting. SubQ is great, because it's painless and has a long history of efficient methylcobalamin delivery. You can get rid of the fear factor entirely by using a needle-free subcutaneous device like Injex.


Longer expiry date. Whenever methylcobalamin is dissolved in liquid, it can be easily destroyed when exposed to light. This is why the instructions you'll get recommend covering the vial with aluminum foil once dissolved. The longer you keep the B12 in dry form, the longer it'll last. Only dissolve when you're about to start using it.


Very cost effective. This is not a retail product, but a simple vial from a certified lab. This allows selling it for extremely low prices compared to what's out there. The vial provides 40,000mcg of methylcobalamin and costs $97, international shipping included! Normally you'll have to pay more than double for the same amount of B12. That's a massive saving, and it adds up quickly if you need new vials every month.


Premium quality. This is not some cheap methylcobalamin made in China. This is methyl B12 sourced from a reputable pharmaceutical laboratory in the U.K. It is then sent to Oxford Biosciences to conduct independent tests to ensure its high purity, sterility and potency.
$97, free international shipping.
Postage is through Royal Mail and takes about a week. While you're waiting for it to arrive, go visit any local pharmacy and buy 10ml of sterile saline (NaCl 0.9%), a pack of alcohol swabs, and insulin syringes (0.3 or 0.5ml). No prescription needed. This will only cost a few dollars.
Best Vitamin B12 Injection Dosage?
So, what's the recommended B12 shots dosage? The answer is… it depends on the clinic, the severity of your deficiency, and your age. In fact, vitamin B12 injections dosage even depends on the country you live in.
However, you don't have to stress about it.
Unlike most vitamins, B12 doesn't build up toxicity, therefore you can not overdose. It is used in huge amounts to treat cyanide poisoning. It has also been used in ultra-high doses (25,000 or 50,000mcg, twice a week!) to prolong survival of ALS patients. Similar doses may even be an effective therapy for patients with peripheral neuropathy and chronic axonal degeneration.
Under advanced haemotogists' care, many pernicious anemia patients receive high doses of 4000-5000mcg methylcobalamin at least three times a week for at least 90 days or until symptoms disappear.
So as you see, very high doses are used without problems.
B12 is water soluble, so any excessive amount is eliminated through the urine. With intravenous methylcobalamin injections — the gold standard, despite what can be accomplished at home with intramuscular or subcutaneous — anything more than 4,000mcg usually ends up in the urine within an hour.
Some places prescribe monthly (even quarterly!) injections. For most patients, that is not nearly enough. Many people keep deteriorating on monthly shots, and symptoms sometimes return within a week of each injection.
So the key is little and often. In severe deficiencies, daily at least.
When you buy our vial of 40,000mcg methylcobalamin, you're instructed to dissolve it in 10ml of saline. If you use 0.5ml syringes, this nets you 20 shots of 2,000mcg methyl each. This is a lot and probably not wholly absorbed. If you use 0.3ml syringes, you get 33 shots of about 1,200mcg each, which is more similar to TrimNutrition's B12 shots back when they could sell them.
He's been on a daily injections for about 3 months now; he's ditched the wheelchair, ditched the walker, and rarely use his cane anymore. Still has some unrepaired nerve damage in one foot, which results in a slight limp, but he's 90% better. Goes for walks, rides his bike.

An interesting bonus is that the methylcobalamin acts to enhance mood, gives energy, and helps with depression — he notices the difference in just a couple hours.

You probably won't be able to get your MD to give you daily injections of methylcobalamin (it's called mecobalamin in some countries). We bought ours through Trim Nutrition in Florida, and their doctor issues a prescription. It's about 35 doses at 1,500 mcg per dose. Runs about $160 as a kit with syringes, so not cheap, but worth it if it helps someone take control of their health, and perhaps stave off permanent nerve damage. It's been a godsend for us.
So, which syringe and dose should you use with our 40,000mcg vial?
Both will work, but you'll probably get a better overall "absorption value" with 0.3ml syringes at 1,200mcg (the amount of B12 in 250 steaks!) per shot.
For how long will I need to be taking B12 shots?
Important: Do not stop your vitamin B12 injections treatment once your levels are in the normal range. This doesn't necessarily mean your cells are replete with B12. Ultimately, your number one guide should be your symptoms, not the numbers on your blood test.
There's no limit on the administration of B12 shots, especially in those who suffer neurological symptoms, who could need B12 injections for life. Nerve damage takes a very long time to heal, if at all.
In the U.K, the NICE and BNF guidelines state that if you have neurological symptoms, you should stay on high-dose vitamin B12 injections every other day until symptoms stop improving, followed by lifelong maintenance doses of two monthly injections.
If, however, your deficiency is the result of parasites, toxins, or a dietary lack of B12, you may only need injections for a few weeks or months. But if your deficiency is the result of your body completely unable to absorb B12 through the stomach, you may still end up needing injections for life.
If that's your case, perhaps getting a needle-free injection device (like Injex which is sold on Amazon) will be a worthy investment.
All in all, remember that your number one goal is filling up your B12 stores as quickly as possible, to avoid any permanent nerve damage.
I recommend taking little doses (1,000-2,000 is really plenty per shot), and as frequently as you can (daily if deficiency is severe). Then monitor your symptoms and adjust accordingly. Once levels return to normal and symptoms start to disappear, you can reduce frequency to weekly or monthly, or stop altogether if you find out you can absorb B12 through the stomach.
Important: Some conditions (infections, folic acid or iron deficiency anemias, alcoholism, uremia or renal failure, metformin administration or bone-marrow suppressing drugs like chloramphenicol) may impede therapeutic response to methylcobalamin therapy, and may require increased or more frequent doses.
Vitamin B12 Injections Side Effects
Again, methylcobalamin is nontoxic even in huge doses, because any excess is excreted through the urine. Therefore, B12 shots side effects and adverse reactions are reported rarely. These include:
Mild diarrhea and/or upset stomach.
Difficulty breathing or swallowing.
Weight change.
Nervousness.
Nausea or vomiting.
Headaches.
Paresthesias.
Rhinitis.
Pain at the injection area.
Red skin.
Light joint pain.
Lightheadedness.
Tingling (rare cases).
Chest pain (rare cases).
Heart palpitations (rare cases).
However, you must understand one thing:
When people have suffered a B12 deficiency through a disease like pernicious anemia, then quite often the disease is only diagnosed at the 'end stage'. Many of the reported side effects of B12 injections are common with the disease itself. But the way adverse effects are recorded necessitates inclusion of these disease symptoms as reported injection symptoms as well. My point?
You shouldn't worry.
There's one exception. If you have a known methylcobalamin or cobalt allergy or hypersensitivity, then avoid the injections. If you suspect you're allergic to cobalt, an intradermal test dose should be administered first. Severe allergies can result in anaphylactic shock and in rare cases, death.
Here's a rare example
of a woman found allergic to cyanocobalamin and hydroxycobalamin, the two inactive forms of B12 commonly prescribed by doctors around the world.
Here's another one
. I
always
recommend methylcobalamin, which is a purer form.
If you are experiencing any allergic reaction to methylcobalamin shots — skin rash, swelling of the face, itching, blue tint to your skin, chest tightness, or any unusual pain — then immediately consult your health care provider.
Also, patients with early hereditary optic nerve atrophy (Leber's disease) shouldn't take methylcobalamin shots. Optic nerve atrophy can get worse in patients with methylcobalamin levels that are already elevated. Hydroxycobalamin shots, though less effective, are safer in that case.
One last thing, upon conversion of severe anemia to a normal production of red blood cells with methylcobalamin therapy, low potassium levels (hypokalemia) and high platelet counts in the blood (thrombocytosis) could occur. Therefore, monitoring of potassium levels and platelet count is recommended during methylcobalamin therapy.
I'll end this section with the words of Dr. Brent Bauer, director of the complementary and integrative medicine program at Mayo Clinic:
B12 is water soluble, and it's generally safe even at very high doses. In the complementary medicine realm B12 is probably one of the safest things you could take.
Important:
The vitamin B12 injections
I recommend through this article
contain pure 100% methylcobalamin. If you order your shots anywhere else, make sure the solution doesn't contain any benzyl alcohol as a preservative, or at least make sure you're not allergic or hypersensitive to benzyl alcohol. Any supplement with benzyl alcohol should be
especially
avoided in premature newborns due to
risk of Gasping Syndrome
.
Vitamin B12 Shots: Frequently Asked Questions
How painful are B12 injections?
The injection is painless. Many people, especially those with a lot of subcutaneous fat, feel nothing at all. I personally went through a series of B12 shots (self-injected subcutaneously), and felt no real pain.
So… I'm one of those people that still wants to cry "a little" lol when I know I'm getting a shot, I know!!! But today I gave myself the first B12 injection on my thigh and did not feel it!!! I looked on youtube for a video and there is one that says pain free and it really is!! Good luck to everyone! Today is my first day ;)
Are vitamin B12 Injections safe?
B12 shots are some of the safest injections you could have, because there's no worry about toxicity. Again, MeCbl (Methylcobalamin) is water soluble, and any excess will be excreted in your urine.
But it doesn't mean you can just order anywhere. Some dodgy sites sell B12 bought from Alibaba.com! Wherever you order, make sure it comes from a certified lab that follows stringent pharmacy regulations.
How hard are B12 shots to self-administer at home?
Subcutaneous injections are very easy to self-administer:
Update: With each methylcobalamin vial sold on my site you'll also get a one-page crystal clear instructions on how to prepare and inject subcutaneously at home. It is extremely easy and safe.
I used to be afraid of needles, but once giving myself a shot, I realized that done right, you don't even feel it! Not only do I feel GREAT, but I have lost 25lbs!
Why methylcobalamin injections and not cyanocobalamin?
Tempted to buy the cheaper cyanocobalamin shots of B12? I feel you. But cyanocobalamin — although commonly prescribed by doctors — is not nearly as potent as methylcobalamin. There's a reason for the price difference.
Cyanocobalamin is a cheap, synthetic, slightly toxic form of B12 that is routed through the hepatic pathway where your liver uses a methylation reaction to cleave the cyanide ligand from it (and ideally excrete it). It's a cobalamin form not used by the body, and is the least effective and most difficult to take.
Not natural to mammals whatsoever.
For cyanocobalamin to be absorbed, your body must convert it into an active form. Unfortunately, many people have conditions that inhibit that ability. And even if your body can break it down, this detoxification process uses precious methyl molecules — which tend to be in short supply — that your body needs for other functions, like optimize homocysteine levels.
Methylcobalamin, on the other hand, is a pure, natural form of B12 you can find in foods. It is more bioavailable to the tissues, and it has a methyl molecule attached to it. So not only does it not steal methyls from your body like cyanocobalamin, but it also provides it with more methyl groups.
That's why people with methylation problems (like children with autism) improve on methylcobalamin but get worse on cyanocobalamin (or hydroxycobalamin, which also steals methyl-groups).
Where methylcobalamin shows its greatest power is with people suffering from degenerative neurological symptoms, where it's often the only promising treatment because it bypasses several potential issues in the absorption cycle. That's why Japan uses methylcobalamin almost exclusively today.
Methylcobalamin promotes axonal regeneration, exhibiting neuropathological and electrophysiological protective effects on nerve degeneration in animal models. It brings synaptic transmutations and diminished neurotransmitters back to their normal levels. Cyanocobalamin or hydroxocobalamin are just not as effective, because only a tiny percentage is converted.
In short, methylcobalamin B12 injections are very effective and relatively inexpensive shots of B12 that may benefit many people who wouldn't benefit from injecting other types of B12.
My advice? Don't cheap out on vitamin B12 injections. The few dollars you could have saved now might translate to thousands of dollars spent later on complex medical procedures if your deficiency persists.
Methylcobalamin B12 shots deliver results.
P.S.
Another natural form of B12 is adenosylcobalamin (also Cobamamide, or AdoCbl). It is not covered in this article because it's not available in injectable form.
Click here
if you want to learn more about the assimilation and metabolism of all
forms of vitamin B12
.
I have been suffering from fatigue and weight gain for the past couple of years. All I used to do when I get home from work was sleep, because I felt so tired. I started taking B12 shots, and boy, I found my fix. Since I started taking it ,I feel so energized now, no more sleeping after work, but instead spend my evenings with family and friends, or walking, or doing some house chores around the house. I love this product, it saved my life, I can recommend it to anyone suffering from continuous tiredness. Love it.
Do vitamin B12 shots expire?
B12 injection vials normally come with an expiration date of a little less than a year. That's not a problem, because a vial is often finished in about a month.
Aren't oral B12 tablets just as good?
No, especially if you can't assimilate B12 through your digestive tract. Either way, most patients recover much faster with injections as compared to when they are given tablets. Most deficient people just can't metabolize oral B12 properly. Check out this BMJ article:
Most of the studies of oral vitamin B12 therapy used serum levels of vitamin and its metabolites as the markers of response to therapy. However, correction of an abnormal laboratory value does not mean successful outcome. An objective improvement in health outcome is only meaningful if accompanied by a clinical response. For example, in a study of 80 patients over a 3-month period, although 80-90% of patients achieved normal serum cobalamin levels on an oral dose of 650 to 1000mcg daily, clinical improvement was observed only in 20 – 30% of patients … We can only speculate the reasons behind lack of response to oral vitamin B12 and it may be that cobalamin somehow undergoes a transformation in the portal circulation so is made less able to be internalized by the cells and only when cobalamin is able to bypass portal circulation, the cells internalize it. This seems to be a saturable process since a minority of patients responds clinically to oral therapy.
Oral tablets will raise B12 serum levels, but they won't repair nerve damage. Tablets should only be prescribed when it's a light deficiency caused by a proven dietary lack of B12 or food-bound cobalamin malabsorption.
My advice? Tablets (methylcobalamin, obviously) are fine if you just want to supplement with B12 "to make sure". But if you have low levels of B12, especially if you show neurological symptoms, injections are a superior way to replenish your B12 levels quickly to avoid nerve damage. If you lack the gastric ability to metabolize B12, then injections may be needed for life.
Can I buy vitamin B12 shots over the counter?
Some countries, like France, Germany and Spain, do allow it. But many others don't. Either way, injectable B12 sold over the counter tends to be made of synthetic cyanocobalamin or hydroxycobalamin. Again, methylcobalamin is superior, and getting it online is a viable solution.
How do you recommend storing a vitamin B12 injections vial?
If you buy your vials of methylcobalamin here, I recommend keeping it in dry form for as long as possible. It is always stable when in dry form. However, when B12 is dissolved in liquid, it undergoes photolysis (decomposition by light). Any exposure to light whatsoever will be a catalyst to lyse.
So when you start using your methylcobalamin and dissolve it in saline, it is then when it will lyse when exposed to light. Our vials are made of Amber glass, the most efficient glass, but even that only prevents 66% of light from getting through. To combat photolysis, cover the vial with an aluminum foil.
This also applies if you buy your vitamin B12 injections from another place, where they're shipped pre-dissolved. Immediately when they arrive cover them with an aluminum foil. Companies selling B12 shots should do it themselves, but I'm not sure they're even aware of the issue.
Store the vial in 5-25°C (41-77°F). The fridge is a good place.
Do I need to alter my diet when undergoing B12 injections?
If you're going through an intensive B12 injection treatment, you may want to increase your potassium intake. Rich sources are dark leafy greens like spinach and kale, baked potato/sweet potato (with skin), salmon, avocado and banana. Careful with bananas and potatoes if you're diabetic.
Also, remember that vitamin B12 and folate (vitamin B9) need each other. If your blood test results indicate you're not at the upper end of the normal folate range, consider supplementing. Many of the drugs that deplete B12 also deplete folate. Folic acid isn't the most effective form, so look for other forms of folate, like l-methylfolate (link to Amazon).
Can I use DMSO to absorb methylcobalamin?
Dimethyl sulfoxide (DMSO) can help absorb many organic molecules, including methylcobalamin. B12 is actually well absorbed from either DMSO, or an ethanol or aqueous solution. However, I absolutely would not recommend DMSO at all. Subcutaneous injections are superior in every way, and safer.
Can the methylcobalamin in the vial be eaten instead of injected?
Yes. However, like all ingested supplements — foodstuffs and medications — it undergoes first-pass metabolism, so this is always a less efficient way of delivery than injections.
Eating the methylcobalamin will be useless, unless your deficiency is either purely diet related (i.e vegan diet) or the result of food-bound vitamin B12 malabsorption, an impaired ability to absorb B12 from food. Unlike pernicious anemia, intrinsic factor is still available with this type of malabsorption, and patients can often fully absorb the free crystalline form.
But again, injections are always more efficient.
Your B12 shots have helped me immesnsely. I missed my shots the last two weeks and that is when I noticed how great they are working because I was DEAD tired!!! Never skipping again.
Can I dissolve your 40,000mcg methylcobalamin in 5ml of saline?
No. 40,000mcg of methylcobalamin needs a minimum of 10ml of saline to dissolve. It is also the maximum the vial can contain. 40,000mcg dissolved in 10ml of saline gives you 33 shots of about 1,200mcg each with 0.3ml syringes, or 20 shots of 2,000mcg each with 0.5ml syringes.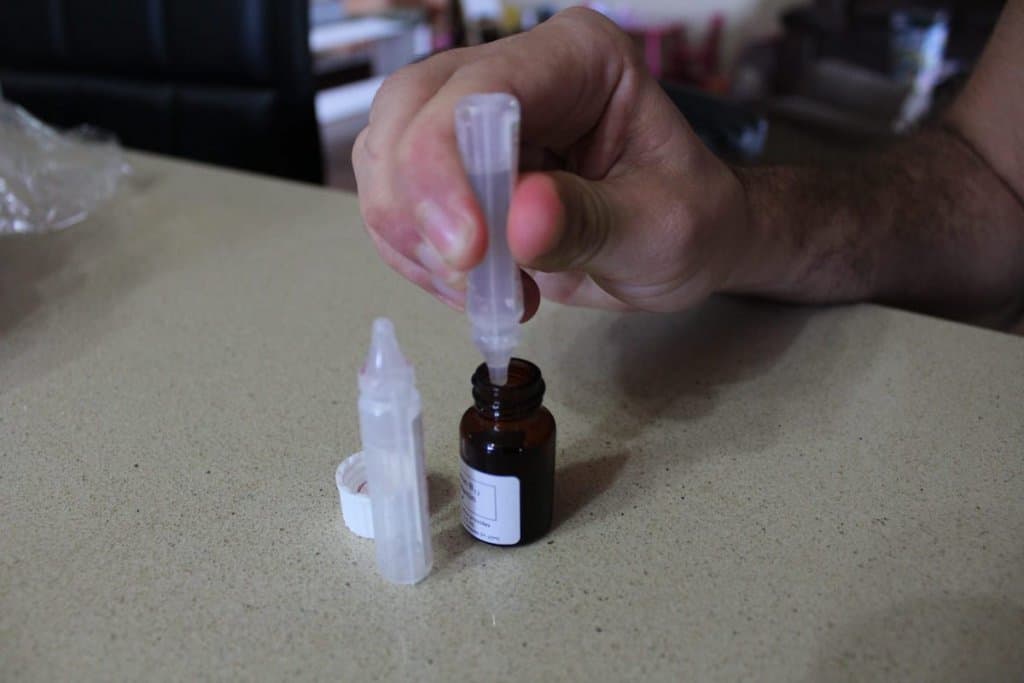 But wait a sec! Some saline brands are labelled "non-injectable"!
That's right.
But really, every sterile 0.9% saline (aka NaCl 0.9%, or Sodium Chloride 0.9%) is the same. For brands to market as "saline for injection", at least in the United States, the saline is required to be tested for endotoxin using an LAL assay. This test is expensive, and many brands just don't do it.
My point? Any sterile 0.9% saline will work. Most people we know use the "B Braun" brand. Almost every pharmacy has it, so simply ask. Remember, you only need a single bottle of 10ml (or 2 bottles of 5ml).
Bonus: NEEDLE-FREE Vitamin B12 Shots
Over the past few years, there's been this one technology I have been following with great interest. It might soon make subcutaneous injections a thing of the past. Check out this video:
Imagine that: Vitamin B12 delivered to your body painlessly and without needles by a tiny, high-pressure jet that works almost as fast as the speed of sound. This, my friends, is the future.
And the present too.
Guess what? Similar devices have surfaced. Most of them are only available to health facilities, except for Injex which you can buy on Amazon and use with our methylcobalamin.
Here's a person injecting vitamin B12 with Injex:
The Injex is a gentle, safe, lightweight injector that propels liquid through your skin and into the subcutaneous tissue, without a needle. It won't penetrate major blood vessels or muscular tissue, which is great, because B12 has a long history of subcutaneous effectiveness.
You can buy Injex from Amazon. When the need arises, you can also order more ampules (disposable needle-free "syringes"). The device is expensive, but might be worth the investment if:
You fear needles that much, or lack the confidence to self-inject.
You're going to need vitamin B12 injections for life.
You live in a third world country, where improperly sterilized syringes and needles are often used.
This needle-free injection concept isn't new at all, dating back to the 40s. But recent advancements in jet injection performance has improved the technology significantly. It might become mainstream in the future.
P.S. The FDA approved the use of the similar PharmaJet Stratis® device to administer influenza vaccines to the public. This approval opens the door for many other injectables (like insulin and vitamins) to be administered with similar needle-free devices, like Injex, Comfort-in™, DosePro®, ZetaJet™, PenJet®, Crossject, Mini-Ject™, Vitajet 3, Tev-Tropin®, Biojector 2000, Jupiter Jet™, InsuJet™, ChemLock™ and others. Read more about needle free injection technology here, here, and here.
Verdict: Should You Get Vitamin B12 Injections?
In the busy world we live in, it's not surprising that a magic shot of energy appeals to so many. But B12 shots aren't a placebo, and B12 deficiency is a worldwide epidemic we must fight together. Now the golden question…
Should you be getting a series of vitamin B12 injections?
Well, do you have low serum levels of B12? Say, less than 350? Regardless of the cause, B12 injections are the quickest, most effective way to replenish your stores before things get bad, sometimes catastrophic.
This is especially important if neurological symptoms — numbness and tingling of the hands or feet, memory loss, tremor, difficulty walking, impaired motor coordination, disorientation, etc — have kicked in. In such cases, take B12 methylcobalamin shots as soon as possible, before your nerves get completely and irreversibly stripped off their myelin sheath.
But what if your levels are normals, yet you still experience symptoms?
You're not alone.
Many people show normal blood levels despite lacking B12 at the cellular level. In that case, test yourself for uMMA, homocysteine and holotranscobalamin levels. These are reliable markers of B12 deficiency. If you are indeed found deficient, B12 injections will help you recover quickly.
Lastly, do you have any condition that inhibits your absorption of B12 through the stomach? Pernicious anemia perhaps? Leaky gut? Have you gone through a weight loss surgery? In a case of such malabsorption, B12 injections are a godsend — a true lifesaver — and are often the only viable treatment.
Still not sure?
If you're certain you're not deficient, there's no reason to inject B12. But if you want to make sure, you can always give B12 shots a shot. There's no toxicity risk — worst case scenario you'll give your body precious methyl groups, and the B12 will be flushed out if not needed — but if after all you were deficient, you'll become yet another testament to the miracle of vitamin B12.