I have measured out my life with coffee spoons. (T. S. Eliot)
When grandpa Fraji was alive, we used to sit every morning along with my cousin Sharon for what the rest of the family called The Retirees' Meeting. My grandpa was an amazing family man, the way Tradition raised men of the past to be. My cousin Sharon — known for his cold-blooded grit in amateur soccer — runs an event attractions business and works at nights only. And yours truly makes passive money online. Thus the Retiree's Meeting.
But what really symbolized the Retiree's Meeting more than anything else was our morning coffee. It was the first thing we'd do. It was our ritual, our social glue. We could sit for hours, listening to Grandpa speak about success in life, about his childhood in Tunisia, and about how his massive Jewish dad once defended his family with a crowbar against eight Arabs.
Great times.
But, beyond its obvious ritualistic pleasure, is coffee really good for you, or are we all better off throwing away all those black beans into the trash bin? Are there any health benefits of coffee, or should we all weep in sadness and hope for a better world? In other words…
Is coffee good or bad for you?
As always, lab chemists down Casa-del-Regev's basement have decided to spread the Truth and help the masses fix their ways. I invite you, my friend, to dive deep into the science behind the Dark Liquid of the Gods.
Is Coffee Healthy For You?
Your uncle Mickey was born with black testicles because of all the coffee I had been drinking when I was pregnant. (Grandma Evonne)
Before we begin, it's important to understand there's a difficulty drawing definite conclusions about coffee. Is it because there is just not enough research? No, quite the contrary: There's a ton of studies, but most of them aren't very good. I'll explain what I mean:
Most studies isolate caffeine! Researchers love isolating specific compounds in food so that they can avoid as many variables as possible, but they forget — perhaps want to forget — that all those foods come with a tremendous amount of components that work together synergistically and depend on each other. Coffee, for instance, is very rich in antioxidants and anti-inflammatory substances, not just caffeine. As far as I know, few of us would give up their cup of coffee for a caffeine tablet.
Most studies are observational and don't take into account the pre-roasting quality of the coffee beans and the way the beans were farmed, processed and dried. These all serve a key role in the toxin content of the final product. Never forget that correlation is not causation, and if people who consume hot chocolate die less from cancer, it doesn't necessarily mean the hot chocolate is what protects them from cancer. Is it possible that those people exercise more or smoke less?
Scientists love using big numbers to impress and get headlines. People who shower twice a day are 50% more likely to have cancer than people who shower once! But then you take a look at the data and discover that merely ten people were examined at each group, and that 2 twice-showerers got cancer while 3 once-showerers did. Indeed a 50% difference, but you don't have to be a genius to see why this is misleading and just stupid.
Many of the studies were performed on people who drink coffee regularly, and some of them were required to abstain from coffee for a few days prior to the study. This means they must have experienced some withdrawal symptoms. Is it possible that some of the documented negative side effects of coffee can be attributed to withdrawal symptoms on people who were addicted to coffee, and also, that some of the documented benefits of coffee can be attributed to re-introducing coffee to people who were addicted and whose coffee was taken away from them a few days before the study? These are all critical questions.
Side Effects & Health Benefits of Coffee
Now that we got that off, let's see some science and try to spot repeating patterns. I can't let you leave this site empty handed.
Coffee and Diabetes, Insulin & Weight Loss
Even though some of the studies found caffeine to decrease insulin sensitivity (even in people who drink coffee before a carb-rich meal) and may even cause insulin resistance, most studies actually link coffee to a lower body weight and protection against type II diabetes (also supported here and here).
How is that possible?
Notice, I am not talking about the amounts of insulin secreted, but about insulin sensitivity, the efficiency of our cells in absorbing blood sugar. Because neither caffeine nor coffee have any effect on insulin secretion when not taken with some calories. But wait a second…
Doesn't decreased insulin sensitivity mean a higher risk of diabetes?
Usually. But what you may not know is that caffeine increases adrenaline levels and releases fatty acids. It isn't unlikely that our body decreases its insulin sensitivity as a response, so that it can take advantage of that new fat energy suddenly available. And even if caffeine does have some negative effect on insulin sensitivity, it seems that coffee's chlorogenic acid has a protective effect against type II diabetes.
Here's another thing that few people consider:
As with any drug, once you get used to a certain amount of caffeine, you'd have to increase that amount if you want to keep feeling that same stimulating effect you got used to. So if that supposed temporary insulin resistance is caused by adrenaline secretion that decreases over time, is it possible that the temporary insulin resistance decreases too? It certainly sounds reasonable.
All that being said, an eight-week study couldn't find any difference in insulin sensitivity (both insulin secretion and glucose regulation) between caffeinated coffee, decaffeinated coffee, or even placebo. In another study, coffee consumption improved glycemic markers including insulin sensitivity and glucose regulation.
Also, it seems that people who drink higher amounts of caffeine enjoy a better insulin sensitivity, and that people who drink coffee enjoy an improvement in insulin sensitivity and beta cell function and are significantly less likely to develop type II diabetes (Also found in this Chinese study).
Reminder: Don't forget that most studies here are observational in nature. They don't give us clear conclusions, other than the fact that there seems to be some positive link between coffee and insulin regulation. What we know for sure is, coffee is very rich in polyphenols.
Besides the prevention of diabetes, those polyphenols help improve carbohydrate metabolism, peripheral endothelial function after glucose loading, postprandial endothelial dysfunction and hyperglycemia. Coffee and its polyphenols also seem to protect the skin against sun damage.
The devout readers among you surely know the link between insulin, blood sugar, and weight loss. Caffeine indeed is a thermogenic substance and may stimulate movement and accelerate metabolism and fat burning. It increases mobility and the use of fat for energy, and if you combine it with a little bit of cinnamon and a few other additions I'll be talking about in my post on how to make coffee, you'll turn your body into an efficient fat-burning machine.
Coffee and Liver Function & Alcohol
Non-alcoholic fatty liver disease is characterized by insulin resistance, so this part is tightly connected to the previous one.
Lo and behold: High coffee intake is associated with protection from non-alcoholic fatty liver disease. Similar findings smile at us from Duke University, where it was found that four or more cups of coffee or tea a day can help prevent the acceleration of non-alcoholic fatty liver disease.
What about coffee and alcohol? One research from 2006 studied 125,000 people for 22 years and showed that people who had been drinking at least one cup of coffee a day were less likely to develop cirrhosis. Arthur L. Klatsky, M.D., lead author of this study, says:
Consuming coffee seems to have some protective benefits against alcoholic cirrhosis, and the more coffee a person consumes the less risk they seem to have of being hospitalised or dying of alcoholic cirrhosis.
Another study examined non-smokers who drink coffee, dividing them into groups of 5 daily cups of coffee with and without caffeine, and an additional group of 0 cups a day. The study found no difference in insulin sensitivity between all groups. The coffee drinking groups showed improvement in the function of liver and fat issues.
Coffee, Heart Disease, Alzheimer & Antioxidants
Coffee contains a ton of antioxidants, and many people aren't aware that caffeine itself is a powerful antioxidant that can protect against alzheimer and heart disease. Speaking of Alzheimer, decades of research suggest that drinking coffee may protect against Alzheimer and cognitive decline.
Another study found that coffee protects LDL ("bad" cholesterol) from oxidation, probably by the incorporation of its phenolic acids into the LDL. Remind you, bad cholesterol isn't really bad unless oxidized.
Another one of the great health benefits of coffee drinking: The high heat and the Maillard reaction in the roasting helps coffee reach a higher content of antioxidants. You may or may not be surprised, but coffee is the biggest source of antioxidants for the average American. Obviously a big part of it is the serious lack of colorful vegetables and fruits in the average American diet.
But make no mistake, precious readers. Even though tea, cocoa and coffee all contain flavonoids and other great antioxidants, the nutrition I recommend across this site is naturally rich in vegetables, fruits, and spices which all offer great benefits. But for the average folk who survives on processed foods, coffee is a lifesaver of tremendous value.
Coffee and Cancer
What do we know about coffee, caffeine and cancer?
Coffee intake is associated with a lower risk of liver cancer. This lower risk is mediated by biomarkers of liver damage and inflammation. However, coffee itself appears to have beneficial effects on inflammation and HDL cholesterol.
One study found that men who drink boiled coffee (Turkish coffee style) suffer less from respiratory tract cancer. Another study found that men who drink coffee are less likely to die from prostate cancer (also here).
That's nice, Reggie, but I'm a girl! Is coffee bad for you if you're a woman?
On a study done on Norwegian women, coffee was associated with a reduced risk of cancer of any kind. Another research found that coffee drinking women enjoy a reduced risk of breast cancer (also supported here).
One meta-analysis of studies suggests that coffee drinking can significantly lower the risk of colorectal cancer and colon cancer, especially for females, especially in Europe. Also, women who consume higher amounts of caffeine enjoy an improved capacity to efficiently repair DNA damage.
Coffee and Depression & Stress
What if you could relieve stress by just smelling coffee? Well, guess what:
Researchers from South Korea's Seoul National University found positive changes in the brains of stressed sleep-deprived rats that were exposed to roasted coffee bean aroma. Note that it was only stress induced by sleep deprivation and not any other type of stress. When the researchers let their rats smell coffee, they found improvement in the expression of genes and proteins with anti-oxidation characteristics known to protect nerve cells from the damage of stress. The rats which weren't exposed to the coffee aroma didn't show those impressive changes.
Another study from Harvard found that drinking 2-4 cups of coffee a day is associated with a 50% lower risk of suicide. The researchers suggest that coffee operates as an antidepressant by boosting production of certain brain neurotransmitters such as serotonin, dopamine, and noradrenaline. On a similar note, women who drink coffee have a lower risk of depression.
Coffee and Exercise Performance
During my famous muscle building transformation, I used to drink a cup of black coffee prior to every workout. I didn't know much about coffee back then, only that it felt like it was helping. Now I know why: Caffeine consumption delays the perception of pain or fatigue from weight lifting, pushing the trainee to exert more effort and even reach failure.
Similar findings show that pre-workout caffeine consumption boosts the response of endorphin to exercise. When endorphin levels are high, workouts are more enjoyable (or endurable), allowing you to produce more work.
What about post-workout benefits? One research showed that, after an exhaustive exercise, caffeine consumption together with carbs helped recover muscle and refill glycogen stores quicker than carbs alone.
In the past, thanks to an old study and a newer one, it was assumed that caffeine causes the body to "keep" glycogen stores for longer, therefore boosting performing. Those results were later supported, but there's now another study showing that caffeine has no effect on the metabolism of fat and carbohydrates during endurance training. So…
Which is true? Do we have other evidence?
One fascinating study from Japan finds that daily consumption of coffee's polyphenols significantly accelerates post-meal fat burning, oxygen consumption during workout, and anaerobic exercise threshold. The study suggests that compounds in coffee may help maintain a proper body weight.
Other researchers found that caffeine boosted strength performance and increased the maximal Bench Press weight lifted by resistance-trained women. However, another study found caffeine to reduce growth hormone response to resistance exercise, though "this effect might be caused by the elevation in blood free fatty acid concentration at the beginning of resistance exercise."
One paper from 2009 offers an interesting hypothesis and suggests that caffeine helps lower-body endurance simply by stimulating the central nervous system (CNS), inhibiting the adenosine receptors and thus reducing the perception of pain and muscle fatigue. That way, the body can produce more force under the same given pain.
Whatever that is — using energy stores more efficiently or simply making workouts more endurable — Science is sure that caffeine boosts performance. It's no coincidence that caffeine is now prohibited in many competitions. It can improve performance and give athletes an advantage over non-caffeinated  competitors. Also, did you know that between 2004 to 2008, higher blood levels of caffeine were found in 75% of olympic athletes during competition? Trust me, they know what they're doing.
One systematic review suggests that caffeine has significant benefits in high-intensity exercise performance, but with a caveat: Caffeine benefits are more significant in athletes who don't drink coffee on a regular basis. That, as with any other drug, the body becomes accustomed to caffeine, and its beneficial effects decrease over time. This seems true for endurance athletes too:
Caffeine ingestion can be an effective ergogenic aid for endurance athletes when taken before and/or during exercise in moderate quantities. Abstaining from caffeine at least 7 days before use will give the greatest chance of optimizing the ergogenic effect.
By the way, here's another cool benefit of coffee: It has a similar effect on heart rate to 'Chi exercises' like breathing techniques, meditation, etc.
Coffee Benefits to Mental Performance
What about cognitive performance, you're asking? Can coffee help you focus better on your business, or get a better grade at your college exams?
As a stimulating drink, coffee offers us the temporary benefits of better concentration, working memory, and increased mood, energy and reaction time. It also seems to increase brain derived neurotrophic factor.
BDNF protects brain cells, neurons, synapses and fills a key role in long-term memory and learning process. It's very likely that this is the reason why drinking coffee is associated with a lower risk of dementia diseases (like parkinson and alzheimer) later in life.
One study from 2005 found that caffeine improved short-term memory. Also, women who drink coffee experience less memory loss in old age. But still, don't forget two things I mentioned earlier:
Coffee contains so many polyphenols and other biological compounds that drawing conclusions based on caffeine studies isn't smart. And remember when I told you how some of the subjects who had been told to stop drinking coffee before the study may have experienced some withdrawal symptoms? Prof. Jack James from NUI Galway claims that in every study where withdrawal symptoms were controlled, the performance and mood improvements were the result of reversal and re-introducing caffeine. He says:
Although caffeine is widely perceived to have beneficial psychostimulant effects, appropriately controlled studies show that its apparent beneficial effects on performance and mood are almost wholly attributable to reversal of the withdrawal effects that occur after fairly short periods of abstinence (e.g. overnight). That is, the caffeine-induced improvements in performance and mood often perceived by consumers do not represent net benefits, but rather re-versal of the performance-degrading effects of caffeine withdrawal.
Is Coffee Bad for You? Ask Your Metabolism
In most of the population, drinking coffee is associated with a lower risk of stroke (also here, even specifically in women), kidney stones, gallstones, and — in one of the biggest reviews ever — even reduced rates of mortality (supported here). But…
Did you know that some of us metabolize caffeine slower than others?
What metabolizes caffeine in your body is a liver enzyme encoded by a gene called CYP1A2. If you have the CC variant, then you're a slow caffeine metabolizer, and high caffeine intake seems to increase your risk of non-fatal heart attack, hypertension, and glucose intolerance if you're hypertensive. As a slow metabolizer, you can get away with a cup or two a day max.
If you have the AC variant, then you're a moderate metabolizer. If you have the AA variant, you're a fast metabolizer. The faster your caffeine metabolism is, the less time caffeine will stay in your blood and the less effect it will have.
If you can drink a cup of coffee and go to sleep immediately, you're a very fast metabolizer. If you can't sleep at night even if you had a cup only at noon, you're slower. Nicotine may make your caffeine metabolism faster, hormonal contraceptives might make it slower if you're a woman.
Effects of Coffee on Sleep
This shouldn't be surprising news: Drinking coffee at night decreases melatonin function and therefore sleep quality and quantity:
The results of our study confirm the widely held belief that coffee consumption interferes with sleep quantity and quality … Individuals who suffer from sleep abnormalities should avoid caffeinated coffee during the evening hours.
Another study finds that drinking coffee all day may keep you cognitively alert, but it only detracts from sleep quality. In fact, having coffee three hours before bed messes up with your circadian rhythm, pushing back your regular bed time.
Coffee is a stimulant, it awakens you, therefore it doesn't play very nice with sleep. Yes, coffee can help you maintain cognitive function when your sleep isn't optimal, but it's only a short term solution for a larger problem.
My advice: Don't drink coffee in the evening if it makes your sleep abnormal. And if you lack sleep on a regular basis and use coffee as a fix, then don't. Adding more hours of sleep is your only real fix.
No Serious Coffee Side Effects?
So, do all the coffee benefits above mean we can all unleash our inner addicts and start pouring that dark liquid down our throat like vikings with kegs of wine after battle?
Not so fast.
Yes, coffee can give you a great temporary heightened state, but besides the few possible drawbacks (like the increased risk of non-fatal heart attack for slow-metabolizers we were just discussing), high amounts can give you the jitters, and in extreme, even reduce the blood flow to the brain and heart.
There are also heart palpitations, which I had a close encounter with when one night me and my cousin Sharon were testing eight different coffee samples for this article. And that's not everything. Ready? Here's another potential source of catastrophe you may have never heard of:
Ochratoxin A.
Allow me to explain.
Coffee and Mold & Mycotoxins
Not every coffee is created equal.
Not even one of the studies I found took into account the way the coffee was grown. I'm talking about altitude, climate, soil, hygiene, pollution, and other environmental conditions. All these have a crucial role in the formation of the toxins and fungi (yes, that's not a mistake) you're going to have inside your cup of coffee. Cheap, commercial, ground coffee will probably be inferior to freshly-roasted coffee beans from a high-quality Guatemalan farm.
And it's not just coffee beans.
Other foods like nuts, cheese, chocolate, beer, peanuts, barley, corn, fruit juices, legumes, peas, bread, grapes, wine, wheat, spices, and processed meats all very often contain neurologically-active chemicals that are created from mold and fungi. This is one of the reasons why I always recommend shopping locally for fresh food, and to avoid storing food for a long time.
These toxins are mostly fat-soluble, meaning they're also stored in the fat-tissues of animals that were fed on such foods, which is exactly why you never want to consume fat from animals that weren't organic, grass-fed.
Did you know? If you get abdominal pain from food that is a few days old, this is the reason why. Your body responds to the fungi and mold that have managed to grow.
Meet Ochratoxin A
The primary toxin I'm concerned about is Ochratoxin A (OTA), a natural organic toxin that's very toxic to the kidneys and seems to be carcinogenic and may even encourage heart disease and hormonal problems. It is created by a mold often found on green coffee beans (aka pre-roasted beans). And yes, while roasting does kill most of the mold, it doesn't kill the toxins that had already been created. Ochratoxin A is created by two types of mold species, Aspergillus and Penicillium, both growing naturally on grains, grapes, coffee, and cocoa.
In coffee, the primary creators of OTA are the Aspergillus ochraceus, Aspergillus carbonarius, and Aspergillus niger. OTA is so dangerous that, when discovered on coffee in 1988, Food and Agriculture Organization of the United Nations declared the maximal allowed weekly amount of OTA to be 100 billionth of a gram for every kilogram of bodyweight. To the request of the International Coffee Organization, the same UN organization funded a $6.3m project aimed at improving coffee quality through the prevention of mold formation.
For five years, the project worked with dozens of countries (responsible for 93% of the world's total export) and helped to deepen our scientific understanding of the causes of Ochratoxin A contamination, creating the Guidelines for the Prevention of Mould Formation in Coffee.
These guidelines help grow, process, and ship coffee much better. Through the aid of soil samples, for example, the project found that the main mold (A. ochraceus) producing OTA is more common in the soil surrounding the coffee tree roots, so when coffee gets in contact with the ground for a few days, it isn't fit for human consumption and is at high OTA risk.
The crucial time for mold formation is right between when the beans are totally wet — where hydrophilic organisms and the coffee seed's physiology protect it from mold formation — to when the beans are completely dry.
This intermediate step is where humidity is moderate, and that's when OTA producing molds have a comfortable environment to develop. This is why the drying process requires super care and attention to ensure minimum development of mold and toxins.
Which brings us right into the processing methods of coffee.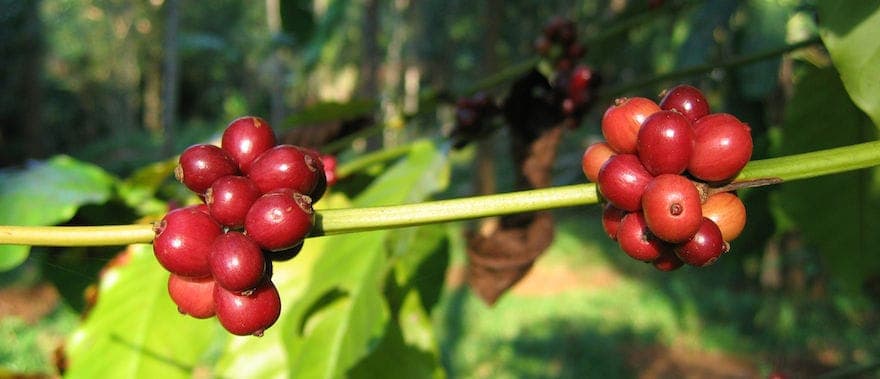 Coffee Processing Methods
After picking them from their trees, the coffee cherries go through a few different processes until they get that familiar coffee bean form we all know them for. There are three methods of coffee processing:
Dry, semi-dry, and wet.
The wet process requires more resources and is significantly more expensive, but it doesn't encourage mold formation like the two other methods. It is mostly Arabica coffee beans — which are more expensive than Robusta — that go through the wet process, but not all of them.
The Dry Process ("Unwashed")
In this traditional method, you place the beans on patios, or out in the sun, on top of thin layers to dry. For 3-4 weeks, you rake the beans without taking off the pulp, ensuring an even dry. After that, you carefully remove the pulp and sort the beans. This manual labour presents a higher risk of defective beans.
Dry-processed beans are characterized by a stronger body and less acidity than wet-processed beans, but the main problem is when there's rain, dew, moisture, clouds and less sun, making the dry longer and presenting a bigger opportunity for mold to form. According to Wikipedia:
The dry method is used for about 90% of the Arabica coffee produced in Brazil, most of the coffees produced in Ethiopia, Haiti and Paraguay, as well as for some Arabicas produced in India and Ecuador. Almost all Robustas are processed by this method. It is not practical in very rainy regions, where the humidity of the atmosphere is too high or where it rains frequently during harvesting.
The Semi-Dry Process ("Semi-Washed")
A method used in Brazil and Indonesia and believed to give a fuller body than wet-processed coffee, and cleaner, more consistent coffee than dry-processed.
In this process, you use some water to separate ripe coffee cherries from unripe ones, and you then mechanically remove the pulp. The mucilage coated beans are then stored in a container to prevent contamination. After up to a day of storage, the mucilage is washed and the beans are left to dry in the sun.
The problem is… mold. The mucilage ("honey") layer is very vulnerable and offers a fertile ground for bacteria. To prevent fungal infections, the beans must be constantly moving during this drying process.
The Wet Process ("Washed")
This expensive method gives clean beans that are more consistent in flavor, but requires the use of special equipment and high amounts of water. Right after the harvest, the cherries are immersed in water to separate the pulp from the beans. The water helps spot defective or unripe coffee, because those float.
After this step, there's another round of wash, and then comes the drying step — with nothing but the beans left — either on a patio or by a mechanical dryer.  We like the mechanical method better, because it is much faster, preventing the formation of mold.
Most places dry washed beans in the sun, only finishing the last few percents of moisture by machine. Drying entirely by machine is done usually only when humidity levels or space cost are too high. This is what we're looking for.
***
But… the problem isn't only in the processing and drying, but in how they store the coffee as well. You see, after drying, the coffee beans are stored for a couple of days, weeks, sometimes even months. Good storage facilities keep humidity levels so low mold just can't form. This is not where the problem is.
The problem lies in places that store the beans in Third World conditions (imagine a sack of coffee under the bed), where there's enough humidity to encourage the growth of toxin-producing bacteria.
And then there's the transit.
The project found that international transit of green coffee beans led to conditions that encourage the formation of mold and OTA because of humidity caused by condensation in the shipment containers. That's why we want to get beans that were wrapped in a fluid-absorbing material along their journey.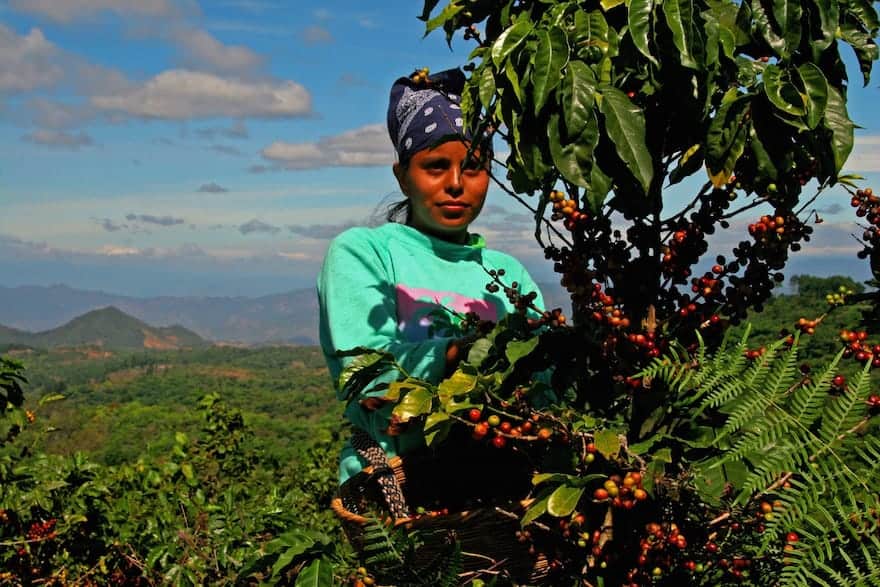 Weather and humidity surely contribute to the formation of mold and toxins, yes, but there seem to be other undiscovered conditions necessary for their formation. This is why the best advice is to always dry the coffee beans as quickly as possible, and to ensure an environment with minimal humidity during storage and transit.
The International Coffee Organization recommends a maximum of 12.5% humidity in green coffee beans to prevent the formation of mold. It's also important to make sure the coffee comes from a place where pollution levels are monitored even when the coffee cherries are still on the tree.
Anyway, thanks to the project and the supervision, OTA levels in Europe went down from 2ppb to 1.3ppb in less than a decade.
Did you know? Even though other countries didn't report such a strong association, Kenya showed that almost all their OTA-contaminated beans were classified as defective beans not used for the final product. Inferior-quality beans like those are often mixed and roasted in developing countries for local consumption. Perhaps that's why "common man coffee" in Central America tastes nothing like their exported coffee.
Also, remember that OTA exists not only in coffee, but in other common foods as well. Fortunately for you, the diet and nutrition tips I give on this site automatically eliminates most of these foods. We don't eat legumes, grains, fruit juices and most of the other OTA-containing foods listed earlier.
P.S. If you'd like to absorb toxins out of your system ,you can use activated charcoal tablets. I should probably write a post about it soon.
How to Choose Coffee Free of Mold & Toxins?
Use single-origin coffee rather than a blend. Yes, you can reach some great flavors by combining different beans, but if one of the sources is contaminated, so are now the rest of the beans. Single-origin coffee dramatically lowers the chance of contaminated beans.
Look for coffee from a high altitude area (For example, mountains in Central America), where it's hard for mold to grow.
Only use arabica beans. Avoid robusta. Robusta are beans commonly used to produce cheap coffee. They're almost always dry-processed, and tend to contain significantly more mold. That's why they're also richer in caffeine, which is supposed to protect them from the mold.
Use mechanically-dried washed (wet-processed) beans. This expensive method ensures that your coffee didn't have enough time to develop mold and toxins as a result of humidity.
If you order directly from a farm, make sure it's a professional, supervised farm, and ask if their coffee goes through mold and histamine tests.
But Regev! What happens when I'm in a coffee shop?
Your safest bet is to ask for single-origin, wet-processed arabica coffee from Central America. If they're looking at you as if you've just landed from the moon — give them a disapproving face, send them to this article, and order espresso/americano without guilt. Most toxins are destroyed under the heat and pressure of espresso machines.
Is Decaf Coffee Bad for You?
I know some of you are now wondering, is decaf coffee good for you? Unless you know for certain that your body responds negatively to caffeine at a level of one cup of coffee a day, then avoid decaf coffee.
First, decaf coffee producers mostly use inferior-quality beans. Second, decaf coffee contains significantly less antioxidants and great other flavonoids. Speaking health-wise, decaf is castrated coffee.
And lastly, caffeine itself protects the bean from the formation of mold, so the decaffeination process may introduce mold into the pre-roasted beans, and therefore more toxins into your cup of coffee.
Is Coffee Dehydrating?
Contrary to what many people think, coffee is not dehydrating. There were two German studies in the past coming to these conclusions, but unfortunately I can't find links to them. No worries though:
One research found that a dose of up to 6mg of caffeine per kg of bodyweight has no effect on body mass, urine concentration, volume and color, sodium and potassium secretion, creatinine levels and blood urea nitrogen. They concluded that caffeine does not cause fluid loss and dehydration.
One study from the American College of Nutrition (link removed) compared dehydration markers in patients who consumed caffeinated coffee and cola to patients who consumed non-caffeinated drinks, or water. The effects of all drinks on body fluids were identical, no matter the content of caffeine.
One review from the American College of Sports Medicine found that not only isn't caffeine dehydrating or has any negative effect on electrolytes, but it also has no effect on high body temperature endurance during exercise.
Although, I personally feel that coffee does cause a dehydration sensation in the mouth, which is why I always drink a glass of water right after.
The Best Time to Drink Coffee
Here's a revelation: It's better not to drink coffee right away when you wake up.
You see, cortisol levels are related to your levels of alertness. Up to an hour after you wake up, your cortisol concentration in the blood peaks. Your body prepares itself for the day and wakes you up.
Drinking coffee at this time — or at night when you're tired — is wasteful, because it simply wakes you up. Instead, if you drink coffee when you're not tired, when you actually don't need coffee to function, it shoots you into a bout of marvelous productivity. My recommendation?
Let your body wake itself up organically, and about an hour to three hours later, right before you're doing your important business, drink your flavorful, rich daily cup of coffee. That's when coffee is most effective.
Did you know? Assuming you wake up at around 8am, cortisol levels peak again between noon to one o'clock, and between 5:30-6:30pm. If coffee doesn't interrupt your sleep and you'd like a second cup, it's better not to drink in these hours. Aim for anywhere between 1:30 to 4.30 pm.
Coffee and Pregnancy
This is important.
One interesting study found that "caffeine consumed by a pregnant woman passes through the placenta to the fetus freely". Did you hear me? Caffeine can make it to your baby. Apparently, coffee intake during pregnancy might lead to a low birth weight, an increased risk of childhood obesity, and a lower level of fetal blood leptin. My advice?
Minimize caffeine consumption if you're pregnant. Decaf is your new friend.
Verdict: Is Coffee Drinking Good or Bad?
People have preconceptions about different foods, and the general concept about coffee is that it's bad for you. But for most people, the benefits outweigh the risks. (Donald Hensrud, M.D., Preventive and Internal Medicine, Mayo Clinic, Rochester, Minnesota)
Here at RE, I won't let you walk away confused.
Although the studies cited in this article are problematic — coffee comes in a variety of qualities that aren't scientifically controlled for — everything I've just written can be summed up in a few important points. Implement them and you'll enjoy the health benefits of coffee without its drawbacks:
Do a self-check and ask yourself why you drink coffee. Is it your solution to a permanent problem, such as low energy? If you constantly find yourself falling asleep at noon — eliminate grains and sugars from your diet, go lift some weights, add an hour or two of sleep every night, and maybe even go out on a morning sunrise walk with your dog. This lifestyle will make you wake up refreshed and sharp — even without coffee — and without the energy rollercoaster that is so common in high-carb diets.  If you drink coffee, it should be because you want it, not because you need it. If you need coffee to function, then you're addicted and you better stop.
If you drink coffee next to a meal, make sure it's mostly fat and protein, not carbs. That waiter in the coffee shop offers you a delicious pastry next to your coffee? Tell him you'd like some eggs and avocado instead. Remember, there's a possibility that coffee temporarily decreases insulin sensitivity. Also, a high-carbohydrate meal will instantly boost your energy, but will also lead to the inevitable drop at noon times. Proteins and fats, instead, will give you a stable mood during the day.
The best amount of coffee per day seems to be about 1 or 2 cups.
Don't drink coffee first thing in the morning. Wait at least an hour and a half. That's when coffee truly sparkles with effectiveness.
If you feel that coffee consumption improves your athletic performance, enjoy it without guilt! Now you know it's not dehydrating you.
To avoid mold and carcinogenic toxins, strive to drink single-origin, wet-processed, mechanically-dried coffee. If you're in a restaurant, just order espresso, americano or cappuccino. The heat and pressure of espresso machines help destroy the molecular structure of most toxins.
If even one cup of coffee a day gives you heartburn, muscle tremors, upset stomach, restlessness, anxiety, or heart palpitations — perhaps you should do some thinking and quit drinking coffee.
There are some awesome coffee health benefits, yes, but you don't really need it in order to lead a healthy lifestyle. If you don't like its flavor, there's no reason to push yourself.
Remember that every person responds differently to caffeine. Some naturally energetic people may drink a long espresso and go to sleep five minutes later without problems. Others may have difficulty falling asleep at night if they had been drinking coffee hours earlier. If coffee gives you sleeping problems, make sure you don't consume it after noon hours.
At the end, remember that all those health benefits of coffee come from studies that didn't control for coffee quality. That means that people enjoyed the benefits while drinking "normal" coffee. Meaning, there's no reason to freak out even if you're not drinking optimal coffee.
If you're a pregnant woman — stick to decaf. Caffeine isn't worth the risk.
So, Is Coffee Good For You After All?
Coffee may have gotten the reputation of an unhealthy drink, but some of its antioxidants, polyphenols and other compounds seem to have significant health benefits in a dose of one or two cups a day.
It can improve your brain, liver, kidney and digestive system function, accelerate your athletic performance, lower your risk of diabetes and depression, improve your reaction time, alertness, cognitive abilities and all other things we associate with intelligence. Coffee is especially optimal if you're not a regular drinker and use it as a boost to mental or athletic efforts.
But remember:
If there's a root problem you're facing (lack of sleep, sunlight, nutrients), you should take care of that problem first and not use coffee as the solution. Yes, caffeine can make you perform like the Energizer Bunny even if your body actually needs rest, but this is exactly why you shouldn't use it as a pill.
And then there's the risk — a risk every stimulant shares — of tiring down your endocrine system. Over time, you'll need more coffee to feel the same effect. That's how you end up with adrenal fatigue. So don't overindulge.
To sum things up,
Is coffee a drug? Absolutely. Is coffee bad for you? It can be, but it doesn't have to be. If you have the discipline to limit yourself to a cup or two a day, it's a drug with some tremendous health benefits you can safely enjoy.