What you're about to observe might make all your presumptions go out the window. In fact, the wisdom below is the primary factor to the very existence of Destination Poon. Because a strong body cultivates a strong mind. And a strong mind calls forth adventure and sexy ladies.
So let's cut right to the chase: I see way too many skinny guys desperately 'fighting' for a few ounces of muscle, misled by supplement companies and commercial magazines. Stop wasting your god damn money and time – and start leading yourself based on legit science. It's time for this guide to be written.
How to Build Muscle for Skinny Guys
"So, where do you wish to be assigned?" asked me the recruitment military officer. "I wanna be a pilot!", I replied without hesitating. My uncle always told me that Israeli females see the penis of Israeli pilots as a highly-valued diamond they crave for. Who wouldn't want to be a pilot now?
"You can not. I am sorry.", Mr. officer replied to me. "Pilot or nothing." I told him, trying to sound firmly unbending. "You don't understand, you technically can't. You have a tiny special clause in your military profile, disqualifying you from any elite unit due to your extremely low weight for your height". Daaamn.
What happened in the following years was nothing short of life changing for me. I even attribute much of the success of my online journey to the transformation you're about to observe. As a teenager, I was pretty sure I was doomed for a life of involuntary scrawniness. "It's just my body type. I eat all day and can't gain a single pound!"
I spent the following years learning from the valuable experience of field experts, devouring books and scientific researches while applying the newly acquired knowledge on my naturally fragile body. Thinkin' you're genetically doomed? Think twice.
Defining Genetic Doom
Building Muscle for Skinny Guys: Moments of Biological Enlightenment
I started taking my body seriously only after a year or so in the military, and I had to 'waste' (I don't like this word, I learned a lot) months of gym time with very minimal gains of weight and muscle. I managed to increase a few pounds, but nothing really worth mentioning. As time passed, I realized something is not working properly. "What the..?" I have followed my gym-trainer's workout plan for so long, ate properly (so I thought), but nothing noticeable happens! Grinding water at its finest.
I'm an hyper-focused rat when I find something interesting, so the next natural move was exploring the whole thing. I became pretty fascinated by the world of heavy rusty iron and human physiology. Large amounts of scientific readings were consumed and a few forums got themselves a new curious member, starving to expand his knowledge to a new dimension. Not too long after, I realized a few things:
Being an extreme ectomorph isa nightmare for someone wishing to build muscles. Fragile, lean, small shouldered, lightly muscled and a hard gainer by its definition. Ectomorphs have the metabolism rate of a jet plane on ephedrine, and it takes FAR more food intake and commitment for an ectomorph to achieve the muscular frame of other body types. You probably have some strong ectomorphic traits if you found yourself identifying with me so far.
To get visual – a classic ectomorph is someone like me. A mesomorph is someone like Bruce Willis or Sylvester Stallone, and an endomorph is someone like Jack Black or Danny DeVito. Most people are an hybrid of these different types, but some people (like me, and possibly you) are born short of "luck", purely ectomorphic. Those people were probably the first to become extinct in times of drought in human history.
Nutrition > Any Workout Program. I don't mean to devalue the importance of a good workout plan, but even the best one won't work without a proper food intake. Ectomorphs have to consume a lot more calories than other body types in order to see some change. If you're a hardgainer, you will have to eat like a starving pig. Weight gain will follow.
Heavy and Basic. My gym trainer, like most of the trainers, sucked. He basically gave me a recipe for grinding water. Too many reps of too many sets of too many unnecessary exercises, without ever mentioning the true importance of the basic, heavy, multiple-joints exercises (Squat and Deadlift, for instance) and proper nutrition.
***
There is one book I owe a tremendous portion of my growth to – "Starting Strength". Mark Rippetoe is an old school hardcore strength trainer who wrote this amazing masterpiece along with professor Lon Kilgore. Rip is a big authority in the field, and believe me – this guy knows what he's talking about. For many people, this book became the 'bible' of weight training since it's been published, and for a good reason. Do yourself a huge favor and read it.
***
How to Gain Weight for Skinny Guys: Words Into Actions
Here comes the practical part. I'll try to present it all in the easiest possible manner to understand –  I believe explosive biological terms will only confuse the average reader and cause analysis-paralysis. Don't sweat over the small details, it's the big picture that matters.
Sure, understanding the mechanics of a car might help a little bit – but it's definitely not crucial to becoming a good driver. I want you to become that good driver. The only thing that's required from you is a huge amount of motivation and self commitment. Believe me, you WILL grow like a monster.
Skinny guys CAN gain muscle, I swear.
Part One: Nutrition
What to Eat to Gain Weight and Build Muscle?
Everyone that I know that competes at a high level in powerlifting does not follow any kind of strict diet. They don't eat crap all the time, but it's not like they are losing sleep over it. When I was competitive I ate pretty much whatever I wanted and just tried to get enough protein. I called it the "'Nuff Protein Diet." (Jim Wendler)
I highly encourage you to avoid eating crap, but I would like to put the next chapter's emphasis on calories (non)counting and protein intake. Nutrition is the most crucial aspect of a healthy life in general and the lifting world in particular. If you want to gain muscle, it really comes down to two main things –
Eat enough (Protein, fats, carbs and other micronutrients)
Progressively overload (Constantly be increasing your workload)
If you're going to build muscle naturally, you absolutely MUST be in a positive caloric intake balance. Now, there is a lot more to the equation – hormonal changes, nutrient absorption, thermogenesis (thermic effects of food) and more. I don't want you to count calories. It's a huge mental inconvenience.
Many people also calculate their Basal Metabolic Rate (BMR) and adjust calories accordingly. BMR is the amount of calories your body theoretically burns without the extras (working out, walking, talking, laughing, whatever). I used to do that but now I believe it's really just a waste of time.
Now, for building muscle as fast as possible, you will have to eat like its your day job. Seriously, being an ectomorph puts you in a somewhat inconvenient position. You must consume a LOT more calories than normal people in order to achieve the same improvement.
You're probably saying right now – "But I'm eating all day and I can't add a single pound!". I was there too. You're not eating enough. You might be eating a lot, but you're still not eating enough… for your genetics. No worries though, redemption is near.
Building muscle for skinny guys is a bit more tricky. Being an ectomorph, your body has a super-fast cheetah-like metabolism, a quickly responding caloric adaptation mechanism and an increased heat production from food intake (Thermogenesis of food). It basically just means that you'll have to consume a lot more food than regular people in order to continue improving both strength and size.
But gaining weight for skinny guys is still possible, and not even too hard once you understand the concepts. You just have to drizzle yourself with the right dose of determination and persistence. The rest is details.
OK! HOW MUCH? HOW MANY CALORIES PER DAY?
As I said, I really don't want you to count neither your BMR nor calories. Simply eat as much as you can. How will you know if you're eating enough? Track your gym sessions and body weight (can be misleading though*). If you're not getting stronger (progressing in workload) on a proper program and adding mass to your frame, you're not eating enough. Eat enormously.
You might as well not be consuming enough protein to maintain your muscular recovery, so track calories and protein intake for one week if you're plateauing and stalling in the program. You're probably consuming a lot less (either calories, protein, or both) than what you assume. Eat more.
How much did I consume along the road to 62 additional pounds of weight? I have no idea but I believe I started with around 3k a day (that's a lot for a fifty something kg person) and increased over time to a lot more.
EAT, EAT AND THEN EAT SOME MORE!
If you still can't seem to gain weight, consider using homemade meal replacement shakes as additional meals to your diet in the form of liquid. Many people swear by the GOMAD (Gallon of Milk a Day) approach. It certainly works, but I don't feel comfortable enough recommending it from a health-perspective. If you go for it, make sure you choose pasture-raised full-fat organic milk.
I also find buffet restaurants a great bang for your buck, especially post-workout (when you're hungry like a lion) and especially if you're bodybuilding while traveling on a budget. If you're eating a ton and still can't gain weight with the GOMAD approach, you probably have some medical condition that should be examined by your medical doctor.
IS IT TRUE THAT OUR BODY CAN ONLY ABSORB 30G OF PROTEIN A MEAL?
Nonsense. That's another myth that keeps running relentlessly in what seems to be every gym around the world. It is the overall amount of protein per day that matters. You can safely consume more than 30g of protein per meal.
How much protein per day? You'll find different recommendations among every lifter, trainer or magazine – most commonly ranging from 1.7 to 2.5 grams per body-weight in kilogram. Others swear by calculating it per lean body-weight only and some people go as far as separating animal protein from plant based protein.
I think this is all crazy. I added about 62lbs of mostly muscle without really calculating the amount of protein. Simply eat a ton, and consume a portion of protein-rich food every meal to make sure that you're consuming enough.
Again, if you're stalling in your program and can't progress, track calories and protein intake for one week. Make sure your calories consumption is in the few-thousands and that you're protein intake is somewhere around the above numbers. Make sure you drink a lot of water.
A Word About The Misleading Scale
Scale can be a great tool for seeing 'big-picture' improvements, but do not get emotionally-attached to it – it's psychologically disastrous. It has huge fluctuations during the day – water volume, hormonal changes, food that's still 'in', etc. It also does not take into account fat loss and muscle gain. It is just a big broad number.
For example, you might be increasing one kilogram of fat and a only little bit of muscle, and still find yourself rejoicing when you see the scale goes up, and vice versa. So, do check the weight once in a while (I check once every week, upon wake up, before breakfast, after vising the toilet), but do not get too emotional about it. Tracking body fat percentage is essential for making the scale useful.
Keeping It Safe: Do Not Neglect Plant Foods
I felt an urge to mention that. It seems like many amateur, semi-professional bodybuilders and lifters tend to neglect whole plant foods consumption. Fruits, vegetables, seeds, nuts – all those should be the staple of your diet. Eat loads of them. They will help your body in every possible way, from reducing chance of getting cancer to helping your body absorb nutrients more efficiently.
IMPORTANT: Hormonal, Caloric and Protein Adaptation

Our body is an amazing masterpiece of evolutionary art, it adapts to almost anything. In order to continue advancing and gaining muscle mass, you'll have to trick your body's natural regulation mechanisms. You'll do that by cutting the amount of calories and protein approximately by half or even more once per week. Ectomorphs tend to have a more 'adaptive' system and this will 'shock' your body and prevent hormonal, caloric and protein adaptational regulations.
This is something I did not take into account until the very last phase of my change. I literally plateaued on a HUGE diet and only started gaining muscle again, ironically, once I started cutting my calories by half once a week. I believe that I would have achieved the same gains much faster if I applied that principle from day one. Paradoxically, this will speed up your results by ensuring that your body is not adjusted to your caloric and protein intake.
So now you know how to gain weight fast for skinny guys with fast metabolism – but also know, for future goals, that if you're trying to lose weight, you'll want to do the exact opposite: eating like a pig once a week. Eating more and actually losing more weight?! welcome to the land of milk and honey and grass-fed steaks.
Junk and Processed Foods at Your Own Risk
This isn't your average bodybuilding site and your health is a top priority here. I can't feel comfortable enough to send you eating loads of junk food just to get bigger. It certainly is possible, and many people do that because its easier, but rest assured that it takes its toll on the body. You're already shoving enough calories to stress your body, at least mind where they're coming from.
I'd say avoid harmful processed foods as much as you can. If you can, make sure your meat and other animal products are organic, cage-free, hormones-free, and grass fed. Avoid grains, sugars, candies, snacks etc as much as you can. Base your diet on organic whole foods.
"One cheat meal/day once a week! please!" – At your own risk. You're the one to decide if the psychological benefits outweigh the damage. It is not very healthy to shove in thousands of calories every day, but I don't want to make this post any longer and heavy than it already is, so I would leave the evolutionary biological and biochemical basis to this for a different post. However, this is unavoidable if you're into building muscles, so you do your priorities.
IN PRACTICE:
Eat 3 or 4 meals a day and make sure each of them consists of a good piece of protein (meats, eggs, dairy if your digestion system can handle it), loads of fresh vegetables of all colours (spinach and other green leafs are packed with goods), a good fat like avocados or nuts, and some safe starches like sweet potato or even white rice (the safest grain). Get some fruits as a desert and you'll be fueled like a tank.
Example meal: steak/chicken breast/beef liver/eggs + mashed sweet potato + salad + a bunch of your favorite nuts and fruits for dessert.
3 or 4 big meals like those and you should be fine. If that's not enough and you're stuck – make the meals larger or add another one. If that doesn't work – try introducing some extra liquid sources (shakes or GOMAD). Remember to cut out all food intake by half once a week.
Part Two: Lifting Heavy
INTENSE FULL-BODY WORKOUTS AND COMPOUND MULTI-JOINT EXERCISES
There is simply no other exercise, and certainly no machine, that produces the level of central nervous system activity, improved balance and coordination, skeletal loading and bone density enhancement, muscular stimulation and growth, connective tissue stress and strength, psychological demand and toughness, and overall systemic conditioning than the correctly performed full squat. (Mark Rippetoe)
If you're not chemically enhanced, an intense full body workout routine based on compound exercises is really your best bet for strength and muscle growth, especially as a beginner. This routine will increase testosterone levels and other anabolic hormones, encouraging massive growth.
This type of programs usually provides you with 2 or 3 days per week of very short and highly intense workouts, incorporating only a few sets of two or three super-heavy exercises. You get a workout every 48 to 72 hours, perfect from a protein synthesis perspective.
THAT'S IT?!
These intense programs let you spend your time wisely. By doing only a few compound heavy exercises every few days, you incorporate all of your muscles in highly complex and growth-eliciting movements, resulting in a huge spree of anabolic (muscle building) hormones and systematical growth.
The heavier the movement, the more anabolic the response and the the bigger your body gets as a whole. Mark Rippetoe talks about it a lot in his book I have mentioned earlier, Starting Strength. The human body is a highly complex system that works as a whole mechanism, and the every routine should be based on heavy and basic core movements.
YOU DON'T NEED ANY ISOLATED EXERCISE

Isolated exercises are movements that incorporate only one single joint. Biceps and triceps curls are great examples, incorporating only the elbow joint. Compound exercises are movements that incorporate more than one joint per exercise – bench press, deadlift and squat being the classic examples.
Naturally, with compound exercises you're able to load a lot more weight, generating a far juicier anabolic hormonal response and systematical growth. Those hormones – most noticeably testosterone, growth hormone and IGF-1 – stimulate a big body-wide growth, from bone density to muscular size.
The whole is much bigger than the sum of it's part. Chin ups, which incorporates both the shoulder and elbow joints, would trigger a better growth than separately doing biceps curls and another isolated upper back exercise. The heavier the movement, the stronger its anabolic response and the bigger you get, provided enough food.
Isolated Movements are Beneficial For:
Professional bodybuilders who care for delicate contest proportions.
'Fixing' a genetic disproportionate defect.
Avoiding incorporating an injured muscle.
When you're just starting, you don't need nothing more than the basic compound exercises. And yes, no biceps curls. And no, your biceps WILL grow. Take a look at my hand and compare it to the initial picture at the top of this article. That's me in the army, next to a friend of mine a few months later.. without ever doing any curl. My arms are not huge in any way, but they did grow substantially without any isolated movement.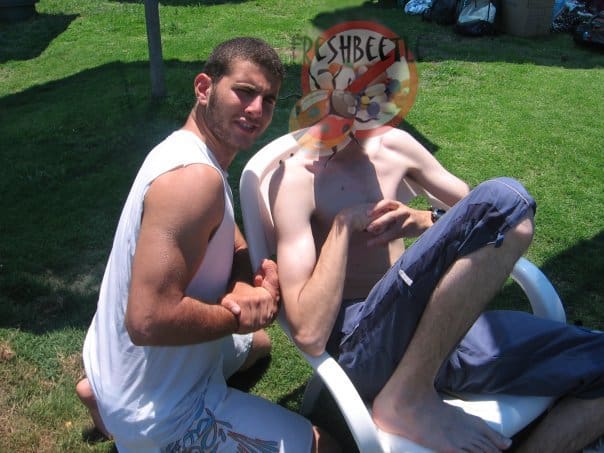 Trainee's Training Stages and Periodization
That's a vital point to understand. Basically, there are gonna be three main stages in your training repertoire.
Novice – The magic stage. Anything you do will probably work (some things just work better). Characterized primarily by the ability to increase training workload every single workout. For the first few months of your training, that's your stage. Embrace it, it feels magical.
Intermediate – Ability to increase the training workload on a weekly basis. For most of the people (who train correctly), this stage usually comes after a few months and comes to an end after around another two years of proper workouts. Requires some sort of a weekly periodization, more on this later.
Advanced – Ability to increase the training workload on a monthly basis. You'll eventually reach this stage after a few years of training properly. Why am I saying properly? Because most people just 'go to the gym' and stay on an intermediate or even novice stage even after many years of training, without ever realizing their growth potential.
After some time with a novice program that increases workload (intensity or volume) each workout, your central nervous system will not be able to recover in the window between workouts, and some kind of periodization will have to be applied. There are a few different types of periodization, and that's a whole different post to write. Luckily for you, there are some awesome proven programs that come with this periodization already built-in.
I used Mark Rippetoe's Starting Strength novice program when I just begun and was very happy with the gains. I later swtiched to Bill Star's 5×5 full body workout routine when the novice program stopped working and I couldn't advance in workload between workouts. Welcome to the intermediate stage.
(Mark Rippetoe actually recommends this program as a follow-up to his novice program)
The Fun Part Begins
In Rippetoe's program (outlined originally in Starting Strength), you basically increase the weight on the bar from each workout to the next, gaining massive amounts of strength and mass if you're eating enough. This program really does wonders in squeezing out the maximum juice out of your system.
I experimented both with 'Kethnaabs' modified version and with the next program, recommended by Rippetoe himself as an alternative to his 'Original Starting Strength Novice Program'. The original program includes the explosive and highly complex 'power clean' move – which is more suitable for aspiring powerlifters than the average joie. I trained at home, and didn't have the equipment necessary for doing these power cleans, so I sticked with the following program:
Mark Rippetoe's Practical Programming Novice Program
Monday
3×5 Squat
3×5 Bench Press / Military Press (Alternating)
Chin-ups: 3 sets to failure (add weight if completing more than 15 reps)
Wednesday
3×5 Squat
3×5 Military Press / Bench Press (Alternating)
1×5 Deadlift
Friday
3×5 Squat
3×5 Bench Press / Military Press (Alternating)
Pull-ups: 3 sets to failure (add weight if completing more than 15 reps)
Mark Rippetoe's Original Starting Strength Novice Version

If you have the curiosity, the will, and the equipment for power cleans, you might be interested in the 'Original Starting Strength Novice Program' which simply alternates between the following workouts on three non-consecutive days.
Workout A
3×5 Squat
3×5 Bench Press
1×5 Deadlift
Workout B
3×5 Squat
3×5 Press
5×3 Power Cleans
(3×5 means 3 sets of 5 reps, 5×3 means 5 sets of 3 reps)
YOU CAN'T TOUCH THIS
Don't touch those programs. Don't add a darn thing. Visit Starting Strength FAQ for related questions and valuable content. That webpage might be a little over-saturated with information so if you find yourself confused by the noise and paralyzed by the information overload, simply skip everything besides the next ones. Understanding them are enough for you to make massive gains. I did the heavy lifting (heh) for ya.
What's The First Workout Like? How Do I Determine My Starting Weights?

We'll be determining our starting weights on the first two workouts. It is highly beneficial for you to you learn the proper techniques to the exercises, especially if you are doing them without an experienced trainer. Care must be taken when determining starting weights and you better off starting with too-low than too-high numbers.
First, begin with an empty olympic barbell (45lbs) and squat down for a set of five reps. If you completed that easily with a good form – add another 10lbs and go for another set of 5. If speed is not slowed and form is still intact, add another 10lbs and go for another 5. Do that until speed or form is crippled, whichever comes first. Then rest and perform two more sets of 5 with this weight.
Congratulations, you have just completed your first 3 squat sets of 5 reps. Repeat this process with the bench press. If you choose to go for the original program, it's now time for the deadlift. Stop your workout once you find out the starting weight since you've already completed one set as the program outlines. After the set is complete, go home and take the next day for rest and recovery.
How's The Second Workout Like?
Progressive overload starts from this workout. After your general warmup and warmup sets, add 10lbs to the weight already established on the first workout. For example, if you squatted for 90lbs two days ago, you're now going for 100lbs. Go ahead then and determine the weight for the military-press as well. If you choose to go for the 'Practical-Programing' version of the program, then it is time for deadlift. Stop once you find out the starting weight since all you have to do is one set.
How Much Rest Between Exercises and Sets?
Do not overthink this too much. Between warmup sets, it will usually be as much time as it takes to change the plates on the bar. Once you get to the working sets of the program, rest as much as needed but not more. I believe I used to rest at around 3 minutes between sets when I just started and increased to around 6 minutes as the weight got very big relative to my size.
Warlord Rippetoe recommends something like that (2-3mins at first, moving up to 5 and 7 minutes as weight gets heavier) but do not get too emotional about it. Just listen to your body and give yourself resting times around those numbers.
How Much Weight Should I Add Each Workout?
For young males that weigh between 150-200 lbs., deadlifts can move up 15-20 lbs. per workout, squats 10-15 lbs., with continued steady progress for 3-4 weeks before slowing down to half that rate. Bench presses, presses, and cleans can move up 5-10 lbs. per workout, with progress on these exercises slowing down to 2.5-5 lbs. per workout after only 2-3 weeks. Young women make progress on the squat and the deadlift at about the same rate, adjusted for bodyweight, but much slower on the press, the bench press, cleans, and assistance exercises. (Mark Rippetoe, Practical Programming, Pg. 122)
If you manage to complete all sets of 5 with proper technique, do as described above by Mark. If you you get all sets with proper technique but with a much slower speed, proceed cautiously – you might want to add less weight than planned (10-15lbs on deadlift instead of 20lbs, for example). Adding too much can hold you back for weeks, adding too little has no real consequences.
If you get the first sets with proper technique and only score 4 reps on the last one – determine if that is a recovery issue (not eating/sleeping enough) or form issue. If the form is easily correctable, proceed as planned. If that's a recovery issue and the bar just felt too heavy, then add just a small increment or keep the weight the same the next workout. Eat a TON!
If you can't complete the first set or you're missing a few reps on the other sets, you are probably using too much weight, especially if you only recently started with this program. If you have been making progress but have stalled for three workouts in a row – see the next section.
Stalling – Why and How

You will eventually stall, this is unavoidable. Progress can't continue smoothly forever. Stalling can occur due to insufficient dietary intake and/or rest. It might also be the result of adding too much weight to the bar or messing up with the program and adding other exercises (you've been warned), or simply because you are more and more close to your genetic potential and need to move to an intermediate program with a weekly periodization.
If you suspect stalling is due to a recovery issue, make sure you get enough sleep and nutrition (reminder: EAT A TON).  If you suspect you added too much weight on the bar, drop 5 or 10lbs – depending on the exercise. If you have added additional exercises, drop them altogether and stick to the basic three. If you have done everything properly and still stall – congratulations, you are on your way to the intermediate stage.
If you're sure that you've eaten/rest enough and used perfect form – reverse a few weeks back and use the previous weight and build it all over again with smaller incremental increases this time. Your body will have time to 'actively recover' and you will probably be able to do it a few times before finally moving to an intermediate program. Hooray!
Make sure you properly learn the lifts technique before starting out. This is ABSOLUTELY CRITICAL.
More information on stalling, resetting and progressing on the end of Starting Strength Wiki FAQ. There is a lot more information there than I can possibly put into this post. Make sure you read it if you really want to know the "why and how" of this powerful program.
Where Next?
After stalling for a while and reaching your novice potential (usually after a few months), I suggest moving to the next intermediate full body workout program. I made the vast majority of my strength and size gains with it and even Mark Rippetoe himself recommends this one as a follow up to his novice programs.
Enter the Bill Starr's 5×5 program.
In this program your week is split into 3 days, just like your novice program. But the difference now is that your first day acts as a "heavy day" while the middle day is an active-recovery "light day" that keeps your motor pathways 'in shape' but still allows your body to recover, while the last day of the week is a 'medium' day where you increase the weight just a little to set up a new record to begin the next week with, in the next "heavy" day.
The idea behind this concept is that recovery capabilities limitations are much faster to reach than potential strength capabilities, and at one point you need to periodize your program intelligently so that you can continue advancing. Your ability to recover is not enough to support major strength gains from one workout to the next. Every professional athlete does that.
That way, you increase your workload on a weekly basis but your body is still able to recover. Same thing goes for the monthly periodization of the advanced stage (just on a monthly basis). I actually managed to get to the point where I am today still being in the intermediate stage. You will probably reach your goals somewhere in this stage too.
Bill Starr's 5×5 Linear Program For Intermediate Lifters – Madcow's Version
Heavy Day:
5×5 Squat
5×5 Bench Press
5×5 Barbell Row
Light Day:
4×5 Squat
4×5 Military Press
4×5 Deadlift
Medium Day:
4×5, 1×3, 1×8 Squat
4×5, 1×3, 1×8 Bench Press
4×5, 1×3, 1 x8 Barbell Row

These are not really 5×5 or 4×5 sets, the first sets are 'ramping sets' leadng to the final heavy set. It's just a general outline and really is just the edge of the fork. This is my favorite program. Really effective. I owe most of my growth to this program which I followed for a year or so with a lot of motivation. Check out Madcow's Bill Starr 5×5 Linear Version For Intermediate Lifters to learn the nuts and bolts of this program.
Another book that I highly recommend, is "Practical Programming for Strength Training", again by Mark Rippetoe & Lon Kilgore. This one goes hand in hand with the former "Starting Strength". In Practical Programming you will learn the science and anatomy of weight training , and you'll be granted the knowledge required to build an effective workout program for anyone, in any stage. Highly recommended.

P.S – I did not include any monthly periodized full body workout plan since I never reached the point where I had to use one. You will probably reach your goals (unless you wanna go pro) way before you reach that stage. You won't need that info even if you try to teach your pals how to gain muscle mass for skinny guys. All beginners are novices and almost everyone reaches their goals intermediately.
REMEMBER – MUSCLE MASS GAIN IS ABOUT FOOD
Muscle building for skinny guys is mostly nutrition. The best program will make you strong, it will not make you big. What makes you big is enormous amounts of food. Weight lifting just provides stimuli for the huge food intake to flow into muscles instead of just fat. Skinny ectomorphic guys wishing to build muscle should remember that before anyone else.
To really appreciate the programs, compare to the initial photo in the head of the article:
Part Three: Equipment
FREE WEIGHTS BABY
The iron never lies to you. You can walk outside and listen to all kinds of talk, get told that you're a god or a total bastard. The iron will always kick you the real deal. The iron is the great reference point, the all-knowing perspective giver. Always there like a beacon in the pitch black. I have found the iron to be my greatest friend. It never freaks out on me, never runs. Friends may come and go. But, two hundred pounds is always two hundred pounds. (Henry Rollins)
Now – you CAN accomplish all those full body workouts at the comfort of your home. I built my own little home gym when I realized that..
There's zero distractions at home. For me, that's the biggest benefit. I want to work out, not chat with people or explain to them how to gain weight for skinny men and how silly their workout regime is. Temptation is everywhere.
All you need is some iron and a bench. I also got two tires for free from a local garage so I have somewhere safe to land my deadlifts to avoid breaking the floor. You can get them for free as well if you simply ask politely, a smile goes a long way.
It's actually cheaper in the long run.
It's far more convenient. No need to get that car going and head to the gym every few days.
No need to wait because the bench is taken. This is less of a problem in bigger gyms, but if you're in a small town you know what I mean. Ever seen a young man biceps-curling in the squat rack? not funny.
I really recommend building yourself a gym at home if you have the place for that. It's an effective, simple, distraction-free and rather cheap alternative. Some people find the social part of gyms motivational for them and I wouldn't argue with that, so set your priorities.
Make sure your bench can also handle squats and military presses if you do not have a power rack. Power racks are beneficial to perform squats and bench-presses safely without a spotter. This minimal amount of home gym equipment gives you everything you need for a massive gain of strength and muscle.
An interesting addition to your home gym would be a homemade T-Handle Russian-style kettlebell, very useful for deadlifts and rows.
You don't need any fancy machine. Most machines are built for isolated movements and we have already talked about them earlier in the post, but here are the benefits of free weight over compound-exercises machines:
Every body is slightly different, and when you're working with free weight, your body naturally controls the movement anatomically. Some machines limit your movement or "fix" you up to one place, making you move less naturally often with less range of motion. Free weight is just more functional and promote more coordination and balance.
Free weight also involves more muscles. It uses a lot of the core muscles as movement stabilizers. Because machines are fixed, there is nothing really to stabilize so there's less work. That's also one of the reasons why you can load a little more on the bar with machines, it does some of the work for you. You will also see slightly better results with free weight, because it involves more muscles and trigger a greater anabolic response.
Free weight is cheaper. With a barbell and a few weights, you can get a complete workout.
I can see machines being beneficial for those not having a spotter and wishing to perform the squats and the bench press. However, this can be easily fixed using a power rack. Get a good set of weights and your home gym is set for you growth. You could also add a pull-ups bar if you'd like, two old tires which you can get free from your local garage and can use for your deadlifts to land on.
Equipment Summary:
Final Words
To feel strong, to walk amongst humans with a tremendous feeling of confidence and superiority is not at all wrong. The sense of superiority in bodily strength is borne out by the long history of mankind paying homage in folklore, song and poetry to strong men. (Fred Hatfield – Powerlifting : A Scientific Approach)
That's it. Now you know how to build muscle for skinny guys with a blazing-fast metabolism. It is no magic though. Simply train heavy, eat tons, rest enough, and grow big. I hope this guide gave you the motivational boost needed to begin your journey.
Stay focused. Stay motivated. Stay determined. As you can see, amazing things can happen if you have the will, commitment and persistence to keep working hard. When you reach your goal you'll be in rare company, in the company of winners who persisted and fought and as a result reaped the tremendous mental and social byproducts of a ripped physique .
It takes effort and many hours with the rusty iron in your gym. But it will change your life. Forever. Don't believe me? Check out Destination Poon, my new book. It details how I transformed myself from the skinny guy you see on the pictures into a… well, you'll see.
Ambition is the path to success. Persistence is the vehicle you arrive in. (Bill Bradley)